Course Details
This has been referred to as a coaching class by many students as the games are used to determine where additional skills would be beneficial and then students will set up the games and run the searches to build those skills. There are over 50 games (including the multiple levels of each game) we will determine what games will help your team progress in your training. How cool is that! A fun games class with the benefit of individual coaching. And why games you ask? We are more relaxed with games and have more fun with our dog which helps the handler and dog progress in their training. I am a firm believer that anything goes when searching for odor as you never know what you will encounter in a trial environment, so we teach our dogs that odor truly can be anywhere! Train hard, trial easy! And in this class, the trial hard is FUN!
If you are interested in progressing through the levels in Fenzi Team Nose Work, we will cover the mazes and deep accessibles. We will also cover how to start without odor if the pressure is an issue. And if you are looking for help in searching new environments, this class is for you too!
Do you need more joy and laughter in your training sessions or maybe some fun search ideas instead of the "same ole thing", you have found the class!! My philosophy is that all training is a series of games. Your dog loves to play games with you, and eventually, all the games come together for a perfect performance. This course can help piece that together by providing a variety of games to cover many different skills. The course can help put the fun back into your searches, add a new twist to what you are already doing or take you to the next level. There are also many games to focus on specific training challenges including building odor obedience, pinpointing odor to prevent fringing, learning to work the scent cone, staying at source, high hides, odor can be anywhere, start lines, working distractions, and much more. It is also a great option for any coordinator of search groups or instructors as everyone loves games in class! The class is geared for all levels and the games will range from foundation to challenging hides. Some games will have multiple levels, others will have variations for each level. You can participate in some or all of the games, but there will be plenty to keep all teams busy and it may even help create your own game ideas. There will also be ideas for indoor games, tight spaces, as well as "on the road" and outdoor games. All games will be released within the first couple weeks of class so you have time to work on what you would like.
This class is only taught once a year and every year we add more fun games! Don't miss out!
Teaching Approach
This class will have a Teacher's Assistant (TA) available in the Facebook study group to help the Bronze and Silver students! Directions for joining that Facebook group will be in the classroom after you register.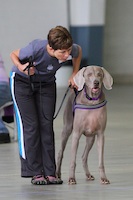 Instructor:
Melissa Chandler
Melissa Chandler (she/her) lives in Ohio and is owned by her Weimaraner and Vizsla. Melissa has been addicted to dog sports since starting in 4H and AKC Jr. Showmanship. She has competed in conformation, agility, obedience, hunt tests, nose work, and rally. She has also...(Click here for full bio and to view Melissa's upcoming courses)