Course Details
The question we ask the dog will always be the same: Do you care enough about what we do together to ask for interaction?
Because engagement is easily turned to work, we can also ask: Will you ask to work with me at home? At a park? At the car wash? Can you interact with me on grass and on cement? When that dog is watching you? Can you interact with me in a playful fashion without specific cues to follow, simply to enjoy the act of engaging with me?
And for the human: Do you know how to engage your dog in a playful and relaxed fashion? Can you respond to your dog's cues and then grow the interaction from simple eye contact to movement? Can you recognize when the environment will win? Do you understand acclimation, engagement, opportunity costs, conditioned emotional responses, and how to ask without begging?
This class will look at engagement in a number of ways:
Engagement as an important element within the relationship for life (this is heavily emphasized in play class).

Engagement as lifestyle (paying attention to your dog and your dog paying attention to you is what gives the basis of connected, enthusiastic, engaged work).

Engagement builds mutual enjoyment, and mutual enjoyment builds engagement. And to a large extent, this is both trained (to both parties) and simply a natural extension of spending time with another being
There is no real way to differentiate Focus Training from Engagement Training, but for the purposes of this course, we'll be looking for active and play/movement-based interaction between dog and handler over classic focus (which can be very calm and task oriented rather than playful).
If you want a beautiful display of teamwork and joy, then a basic understanding of the cues or exercises for your sport will not be enough; you will need engagement. Join this class to develop a deep understanding of this fascinating topic!
Note: A 'sample lecture' is available - see the Sample Lecture tab above!
Is this course right for you? This class offers extensive lectures, problem solving and a specific set of exercises and criteria, to inform the handler when they will want to consider the next step. Each step is heavily illustrated with videos - the videos do not require the ability to hear them in order to illustrate the lectures effectively. Stage 3 is the only place where a student might be "muddling" a bit as they try and find the route that works best for their dog - the relationship building through play class will be helpful to overcome this obstacle. This class will work best for students who enjoy reading, prefer a structured route with discrete steps to follow but who can still thrive with some uncertainly as they work through the route that is best for their team.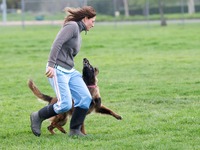 Instructor:
Denise Fenzi
Denise Fenzi (she/her) has competed in a wide range of dog sports – titling dogs in obedience (AKC and UKC), tracking (AKC and schutzhund), schutzhund (USA), mondioring (MRSA), herding (AKC), conformation (AKC), and agility (AKC). She is best known for her flashy and precise ... (Click here for full bio and to view Denise's upcoming courses)