Course Details
Knee problems are incredibly common in dogs. Whether the dog is a top level athlete or a professional cookie catcher at home, the knee is one of the weakest links. Cruciate disease, ACL or CCL problems are undoubtely the number one reason why owners take their dogs in for a visit with a rehab specialist. In fact, knee problems are so common that chances are good that everyone with a dog is going to experience a problem with knees at some point. Osteoarthritis is a problem with many of our dogs, and this course will help you help your dog strengthen and support the arthritic area. The multimodal approac is crucial to addressing osteoarthritis and is inclusive of reducing pain and infllammation, and improving strength and range of motion.
This class is applicable to ANYONE that is concerned about their dog's knees. This class will focus on strategies to help prevent knee problems, non-surgical approaches, discuss when surgery is needed, and raise injury awareness. Our goal is to help our dogs have the best quality of life for the longest time possible.
I would strongly encourage a gold or silver level if you do have a dog with a knee problem. The gold level will allow for one on one interaction, and the homework will discuss specific exercises for you and your dog, as well as their progressions. This is also an excellent class for those involved in the rehabilitation, strengthening and training of dogs with knee problems.
Teaching Approach
One main lecture will be released each week for a total of six main lectures. Additional supplemental lectures will be released throughout the six weeks. Students are expected to go at their own pace and their dog's own pace. If there is an exercise or activity that is not benefitting their dog, or their dog is struggling with, it is expected the student will ask for assistance or skip over the activity.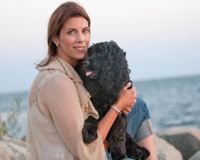 Instructor:
Debbie (Gross) Torraca
Deborah (Gross) Torraca (she/her), DPT, MSPT, Diplomat ABPTS, CCRP has been involved in the field of animal physical rehabilitation for over 17 years and currently owns a small animal rehabilitation practice in Connecticut called Wizard of Paws Physical Rehabilitation for...(Click here for full bio and to view Debbie's upcoming courses)