Course Details
Wouldn't it be nice to have your dog DROP the toy at your feet? Just, you know, DROP the toy. That way, you could throw the toy again. Or ask for some heeling and throw the toy again. Or ask for agility equipment and throw the toy again. AND GET THE TOY BACK!
Instead, your dog takes off, plays keep away, and stares at you with the toy in their mouth. I'm very familiar with that look because Ones, my older GSD, did that to me as well.
Learn from my mistakes! In this workshop, I'll cover the 10 steps to being able to use Chase as a reinforcement for behavior skills, as well as creating a training language that details out how to adjust your reinforcement according to your dog's opinion of the training session. We'll use 2 toys to get this, so that the handler is in control of the reinforcement at all times.
Tugging and more complex skills are covered in other workshops/webinars.
---
Note: This is a repeat workshop that has run previously under a different course number. Please review your workshop library to make sure this would not be a duplicate purchase.
---
Watch the Trailer
---
Lecture Publish Date: Sunday Dec 3rd
Video Submissions Due Date: Sunday Dec 10th @ 12pm noon PT
Feedback & Questions Video Publish Date: Wednesday Dec 13th
---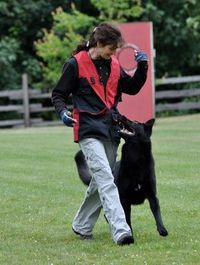 Instructor:
Shade Whitesel
Shade Whitesel (she/her) has been training and competing in dog sports since she was a kid. Always interested in how dogs learn, she has successfully competed in IPO/schutzhund, AKC obedience and French Ring. Her retired dog, Reiki vom Aegis, IPO 3, FH 1, French Ring 1, CDX, was 5th at the...(Click here for full bio and to view Shade's upcoming courses)