Course Details
Let's teach a pop stand! Why?! The primary answer is fun. For dogs who love to do a high hand touch or even bounce high in the air, they will LOVE their new stand.
For a more serious answer, it's a fast and easy way of teaching a kickback type of stand in heel position and getting the weight shift you want for a very fast "moving stand" without any forward motion.
Some of you may have seen my dog's astronaut style boings and may think that this isn't for your dog! To reassure you, MOST dogs will only lift their front feet in the air on their "pop," not all 4!
In this workshop we will discuss
- 2 different styles of training a pop stand: popping forward and popping back
- Bringing your pop stand into heel position
- Teaching a moving pop stand!
---
Watch the Trailer
---
Lecture Publish Date: Sunday Nov 26th
Video Submissions Due Date: Sunday Dec 3rd @ 12pm noon PT
Feedback & Questions Video Publish Date: Wednesday Dec 6th
---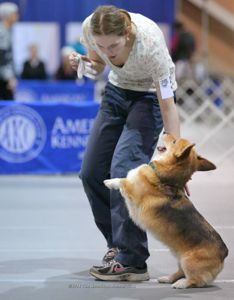 Instructor:
Laura Waudby
Laura Waudby (she/her) trains and competes in obedience, rally, and agility. She was halfway to her OTCH with her UDX corgi, Lance, before his uexpected early retirement. She also has championship titles in USDAA and UKI. By day...(Click here for full bio and to view Laura's upcoming courses)