Course Details
In this workshop, we'll be teaching our dogs adorable tricks that work well for taking pictures of your dog! Not only that, but we will discuss other training techniques to ensure that your dog enjoys having their photo taken and allow you to get the best shot possible.
Tricks covered in this workshop include: Are you Sad?, cross paws, sit pretty and hug.
---
Note: This is a repeat workshop that has run previously under a different course number. Please review your workshop library to make sure this would not be a duplicate purchase.
---
Watch the Trailer
Lecture Publish Date: Sunday Nov 19th
Video Submissions Due Date: Sunday Nov 26th @ 12pm noon PT
Feedback & Questions Video Publish Date: Wednesday Nov 29th
---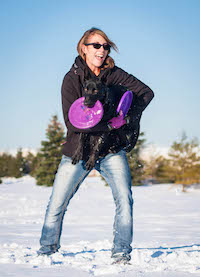 Instructor:
Sara Brueske
Sara Brueske (she/her) has been training dogs for over 15 years, and has experienced a large variety of breeds and sports during that time. Having graduated as a Karen Pryor Academy Certified Training Partner ... (click here for full bio including Sara's upcoming courses)