Course Details
Trick training is not just something to do on rainy days anymore! There are now trick titles to be acquired and trick competitions to be won! Just like any dog sport, a solid foundation can take your dog's trick training to the next level. This workshop will cover foundation concepts such as targeting, luring, free-shaping and adding duration. We will also teach one trick based on each concept!
Any dog is suitable for this workshop, no age restrictions. We will be using food as a reinforcer.
---
Note: This is a repeat workshop that has run previously under a different course number. Please review your workshop library to make sure this would not be a duplicate purchase.
---
Watch the Trailer
Lecture Publish Date: Sunday Nov 5th
Video Submissions Due Date: Sunday Nov 12th @ 12pm noon PT
Feedback & Questions Video Publish Date: Wednesday Nov 15th
---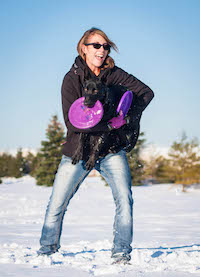 Instructor:
Sara Brueske
Sara Brueske (she/her) has been training dogs for over 15 years, and has experienced a large variety of breeds and sports during that time. Having graduated as a Karen Pryor Academy Certified Training Partner ... (click here for full bio including Sara's upcoming courses)