Course Details
Dock diving is a sport with unlimited opportunities to fine tune your dog's skills and your own handler strategies! But when you only have a limited amount of time on the dock each week to practice, how do you make the most of that time?
This class gives you a blueprint system to address all of the common issues in dock diving dogs, as well as strategies for correctly introducing new dogs to the pool or advancing more experienced competitors to the next level. If you are new to the sport, need help troubleshooting, or have a dog with a lot of potential that you want to advance smoothly and thoughtfully, for best results in dock diving- you'll want this class!
Lectures cover common introduction strategies: To the pool, to the dock, to each type of specialty event in dock diving. They will provide troubleshooting plans- both to help you understand what is causing an issue such as early take-offs, hesitations, or slips- and specific plans to solve those. By popular request, this class addresses considerations about over-arousal while waiting or moving TO the dock, or while being held/staying. You'll also find strategic considerations that can help build your dog's confidence, power, and jump size. And you'll learn how to make the best use of practice time at the dock, at the lake, or at home- in order to actually progress your training rather than mindless jump after jump with no real purpose. Preserve your dog's body and mind -and your pocket book- and make each jump count in a way that is more fun for both of you!
To make the most of this class, you'll want access to a dock with good traction once per week during the 6 week class term. A half hour rental slot at your local dock diving pool or a trip to your lake, if the boat dock is safe to jump from, will give you more than enough time to get your dog's training in with some maintenance training that you can work on between pool visits. Should you have more regular access to a pool or swimming area during the class, you could certainly make use of those too.
Teaching Approach
This class offers a hybrid approach- with the bulk of the instructional lectures released all at once at the start of the semester as a basic blueprint guideline. Students will have the option to work through each lesson, which comprises of written instructions and video demonstrations, or get guidance and specialized help with troubleshooting a particular issue. Supplemental lectures may be added throughout the term, inspired by students with progressions or problems that require a unique approach.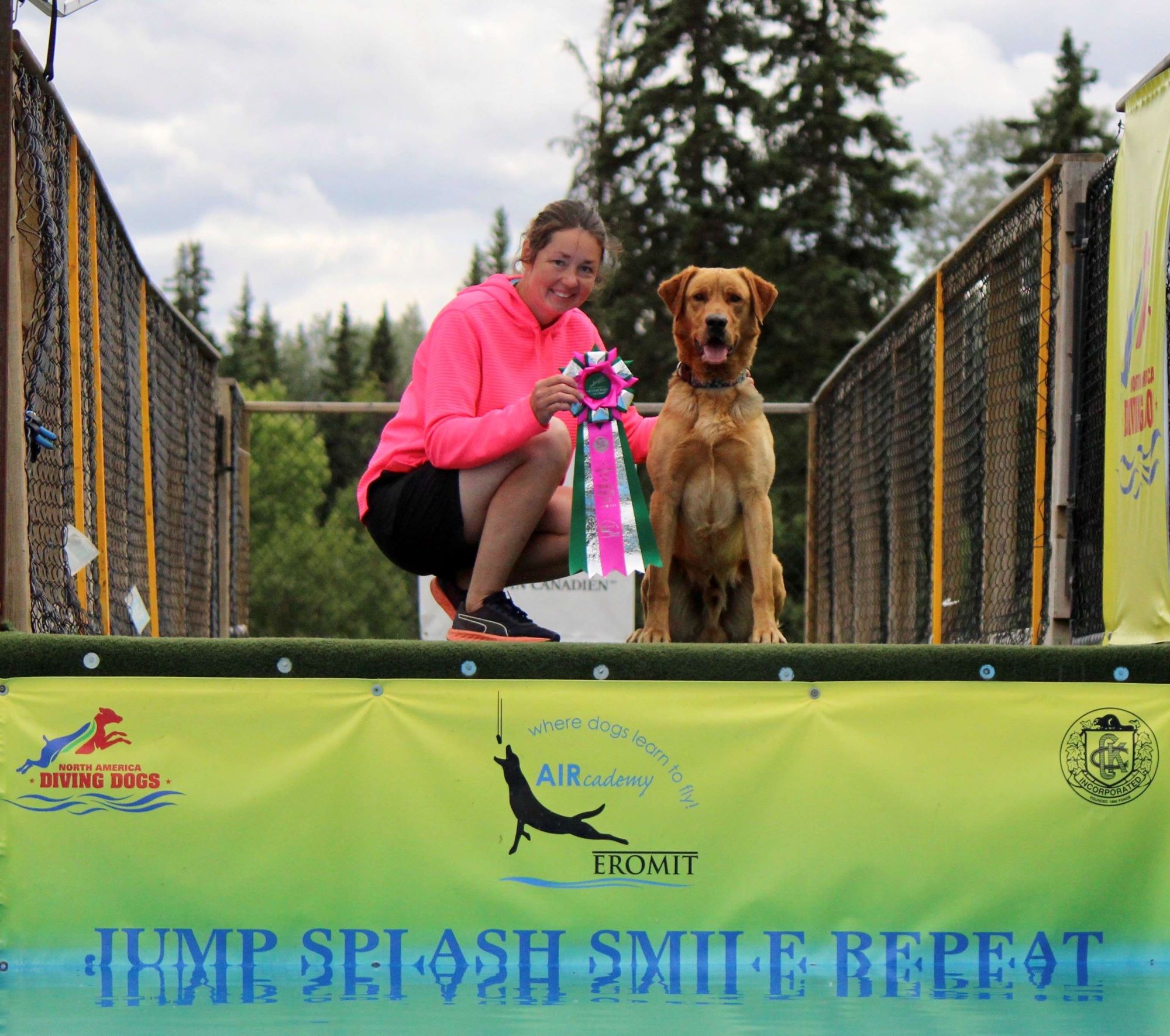 Instructor:
Erin Lynes
Erin (she/her) is a lifelong dog enthusiast from Quesnel, British Columbia, Canada. Erin is certified as a Karen Pryor Academy Training Partner, a Certified Profesional Canine Fitness Trainer, a Licenced Family Dog Mediator, and as a Cani-Fit Leader, ...(Click here for full bio and to view Erin's upcoming courses)