Course Details
In this workshop we will cover all the novice level skills and how to take what you have learned in novice and apply to build intermediate level skills. This workshop is for those new to parkour and anyone working on intermediate level titles / skills.
Parkour, also known as "urban agility" is a great sport to boost confidence, build strength and strengthen your relationship. Parkour is a challenging, but fun activity to do with your dog. It includes, jumping, climbing, and balancing. All dogs can participate in some form of Parkour. Once you start Parkour, you will look at the world completely different. You will always be on the lookout for places to play with your dog.
Parkour is a great compliment to nose work as it teaches your dog to interact with the environment and builds confidence to work in new environments, work on pressure to go through smaller spaces and build good body awareness.
It is fun to look at the environment and find all the new ways to participate in Parkour. You can use trees, benches, walls, logs, playground equipment, picnic tables, boat docks, stairs, the list is only limited by your imagination. Inside can include laundry baskets, exercise balls, scaffolding, carts, stairs, and boards. Parkour should be done in a safe manner, evaluating all obstacles and surfaces before ever asking your dog to interact.
The sky truly is the limit when it comes to Parkour!
---
Note: This is a repeat workshop that has run previously under a different course number. Please review your workshop library to make sure this would not be a duplicate purchase.
---
Watch the Trailer:
---
NOTE Dates: Students will have TWO Weeks to Submit Homework for this Workshop
---
Lecture Publish Date: Sunday May 7th
Video Submissions Due Date: Sunday May 21st @ 12pm noon PT
Feedback & Questions Video Publish Date: Wednesday May 24th
---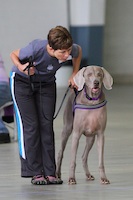 Instructor:
Melissa Chandler
Melissa Chandler (she/her) lives in Ohio and is owned by her Weimaraner and Vizsla. Melissa has been addicted to dog sports since starting in 4H and AKC Jr. Showmanship. She has competed in conformation, agility, obedience, hunt tests, nose work, and rally. She has also...(Click here for full bio and to view Melissa's upcoming courses)