Course Details
Want a dog that tug, tugs, and brings that toy right back to your hands when you let them have it? Want to use that tugging to reinforce agility sequences, or secondary obedience in bitey sports, or heeling, or just for fun?
Instead, your dog takes the toy to the far end of your yard/arena and stares at you while dissecting the expensive fluffy toy. Or circles you in zoomies, playing "keep away". Or body slams you with their feet until you are black and blue.
I can help! Let's put some structure into the tugging game and make sure both dog and human are having fun. I'll teach you whether you have a "puller" or a "pusher" and how to play with your dog in such a way that they bring the toy back each and every time. If you've got the skills from the 2 toy chase game, we'll work on adding behavior skills to the game as well.
This workshop is perfect for dogs that have lots of interest in toys and playing with them. It's not suitable for dogs who have to be coaxed to interact with toys.
---
Note: This is a repeat workshop that has run previously under a different course number. Please review your workshop library to make sure this would not be a duplicate purchase.
---
Watch the Trailer:
---
Lecture Publish Date: Sunday April 30th
Video Submissions Due Date: Sunday May 7th @ 12pm noon PT
Feedback & Questions Video Publish Date: Wednesday May 10th
---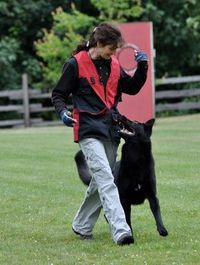 Instructor:
Shade Whitesel
Shade Whitesel (she/her) has been training and competing in dog sports since she was a kid. Always interested in how dogs learn, she has successfully competed in IPO/schutzhund, AKC obedience and French Ring. Her retired dog, Reiki vom Aegis, IPO 3, FH 1, French Ring 1, CDX, was 5th at the...(Click here for full bio and to view Shade's upcoming courses)