Course Details
We spend a lot of time teaching our dogs to retrieve items to us and to hold onto items, and then when we want them to take an object away from us and drop it in the middle of nowhere our dogs are understandably confused.
In this Drop It Like It's Hot workshop I will teach you how to train your dog that taking an object away from you and dropping it on cue is just as rewarding as giving you an object.
This workshop will be of particular interest to those competing in Portuguese Water Dog Water Work Competitions, particularly those wanting to train the Ball Drop exercise, it will also be of interests to anyone wanting to train their dog to take objects away from the handler and drop them on cue.
In order to successfully complete this workshop you do not need a body of water or a pool, because the training in this workshop is starting from the beginning, so it is best to be done in your house or yard.
This method of training has proven very successful for competition purposes. Dogs new to the exercise have qualified in their first Courier Competition runs and in dogs that have been trained other ways and failed and then retrained successfully using this process.
It is a step by step process that will teach your dog on cue:
- "Drop it Like It's Hot"
- with the handler at a distance
- and then return to the handler having left the object behind
Prerequisites: your dog must be able to pick up an object off the floor
Supplies
1. 12"x12" 1" garden foam or fit cushion(approximately)
2. Pylon or post
3. Food your dog will do backflips for
4. Clicker or other marker, a whistle or a duck caller
5. 5 or 6 objects your dog likes to put in their mouth
6. A balloon
7. A rope to tie to the balloon
8. A platform you dog is comfortable standing on
9. A chair for you to sit on
---
Note: This is a repeat workshop that has run previously under a different course number. Please review your workshop library to make sure this would not be a duplicate purchase.
---
Watch the Trailer:
Lecture Publish Date: Sunday April 30th
Video Submissions Due Date: Sunday May 7th @ 12pm noon PT
Feedback & Questions Video Publish Date: Wednesday May 10th
---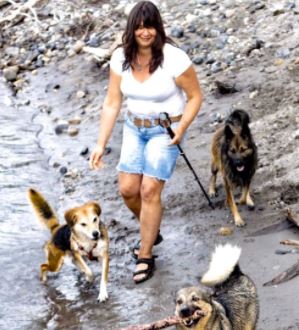 Guest Instructor: Barbara Lloyd