Course Details
There is WAY more to working and training with multiple hides than simply setting out a second hide. How you train and handle will have a huge impact on your dog's ability to find all of the hides now and going forward, and will set the course for working converging odor in the future.
Successful multiple hide searches look like this...
- The dog clearly understands that the first hide is done and out of play
- The handler understands when and how to release body pressure in order to avoid conflict
- The dog re-engages with the search without latency, meaning that the dog starts to search immediately after the reward for the first hide
To do this, we have to train the dog's expectation and the handler's skill. We have to be thoughtful with our hide placements and communication. Ultimately, with thoughtful training, the transition between the hides gets easy and paves the way for easy application to closer or more challenging setups.
This workshop will give you the understanding of HOW to train (and handle!) multiple hides in a conflict free manner and with confidence!
---
Note: This is a repeat workshop that has run previously under a different course number. Please review your workshop library to make sure this would not be a duplicate purchase.
---
Watch the Trailer:
---
Lecture Publish Date: Sunday March 26
Video Submissions Due Date: Sunday April 2nd @ 12pm noon PT
Feedback & Questions Video Publish Date: Sunday April 5th
---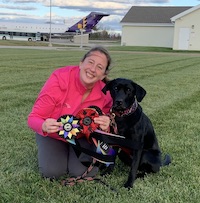 Instructor:
Stacy Barnett
Stacy Barnett is a top nosework competitor and trainer, being the first handler to title multiple dogs with multiple Summit Level titles in the National Association of Canine Scent Work (NACSW), (Judd SMTx3, Brava SMTx2). Stacy has been a faculty member at Fenzi Dog Sports Academy since 2015 (Click here for full bio and to view Stacy's upcoming courses)