Course Details
Don't be the weak link in your training team! Take a little time to up your game and give your dog the best chance at training success. This workshop will lead you through a series of fun games designed to help you build excellent training mechanics and establish clearer communication with your dog. Amazingly, when you improve your skills your dog finds learning so much easier!
The Goal:
No matter what training background and experience you and your dog have, there are some common weaknesses that often keep teams from achieving their goals. My goal in this workshop is to help you strengthen your marker timing and reinforcement delivery skills to make it as easy as possible for your dog to learn. When learning is easy your dog becomes a much more enthusiastic and engaged training partner.
Prerequisites:
Any (or no) previous level of training experience (for both dog & trainer)
Reinforcers (food your dog will work to obtain)
Willingness to spend approximately 10-15 minutes a day working on the games (ideally in 2-3 short sessions)
The Purpose of the Games:
These games are designed to help both you and your dog develop a clearer communication channel during the training process. They are not designed to teach your dog any specific behaviors; but rather to give you both practice in the basic structure of mutually enjoyable and informative interaction. Training is a team activity. The games are meant to get you both on the same page, strengthen your teamwork, and provide a shared understanding of how the training process works. This shared understanding will make all your other training much easier and more satisfying for both of you.
The Games:
Day 1:
Reinforcers (what do you WANT & how do you get it?)
Markers (wait for it vs. go for it)
Day 2:
Rapid fire treats (your speed mechanics)
Speed shaping (your dog's speed mechanics)
Day 3:
Slow treats (your thoughtful execution)
Floor zen (your dog's thoughtful execution)
Day 4:
Treat tosses (movement on cue)
Two treats (building intensity in movement)
Day 5:
Go the distance (floor zen & treat tosses behind)
Day 6:
3 roads to build behavior (luring, shaping, targeting)
Day 7:
Submit video
Watch the Trailer
---
Lecture Publish Date: Sunday Jan 1
Video Submissions Due Date: Sunday Jan 8 @ 12pm noon PT
Feedback & Questions Video Publish Date: Wednesday Jan 11
---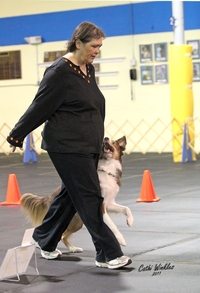 Instructor:
Deborah Jones
Deborah Jones, Ph.D. (she/her) is a psychologist who specializes in learning theory and social behavior. She taught a variety of psychology courses at Kent State University for the past 20 years. Deb has been training dogs for performance events for the past 25 years and was an early...(Click here for full bio and to view Deb's upcoming courses)