Course Details
Do you have a dog that plays great at home but ignores the toy in public? Is your dog lacking confidence in tug or gets distracted in fetch? Or a dog that gets too excited about toys and struggles to focus on work or shift back to a food reward? Maybe your dog has invented their own game of keep away and just won't bring that toy back. All of these are common problems when developing toy play and are often due to a lack of motivation or an unclear understanding of the game.
This class will focus on building functional toy play to be used as reinforcement for training sports. The main two games that we will be building are fetch and tug with the emphasis on building confidence and understanding of cooperative toy play. Handlers will be encouraged to let go of established beliefs towards toy play and look at it from a new perspective as they work to build a game that is reinforcing for both ends of the leash.
Dogs who will do best in this class are those that have workable food drive as we will be using food as a main reinforcer. Dogs that have been disinterested or turned off by toy play in the past are welcome in this class!
Teaching Approach
This class is a combination of written lectures along with video demonstrations. While there is a lot of content in this class, it is important that students move at their dog's pace rather than trying to complete all of the material. Emphasis will be put on building toy play that is fun for the dog and that may look different for individual dogs.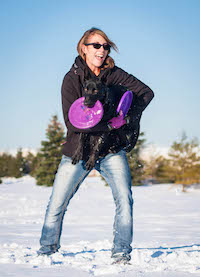 Instructor:
Sara Brueske
Sara Brueske (she/her) has been training dogs for over 15 years, and has experienced a large variety of breeds and sports during that time. Having graduated as a Karen Pryor Academy Certified Training Partner ... (click here for full bio including Sara's upcoming courses)