Course Details
This course has been revamped and revised to include Andrea's Think, Plan, Do Plus model. A variety of goal setting techniques are covered as well as tips to help with making the most of your learning preferences, no matter who you work with. Techniques for memorizing courses and remembering things while under duress are also covered. How can you use goal setting and habits to inform, supportHandling the human side of competition, disappointment and the vagaries life with canines are covered through lectures, homework and discussion.
Course trailer
All in Your Head is not a prerequisite but is recommended as a reference point. You can purchase the course now if needed or desired.
Teaching Approach
This class, due to the nature of the information is very lecture heavy. There will be lectures posted approximately two or three times a week discussing the various tools, theories and approaches that will help you learn to apply the information to your own case. Within each lecture, there are often videos and article links to provide illustrations of what is discussed. The homework assignments for the Gold students will enable them to apply the material to their own situation and get feedback and support. No video is needed in this class although students do share information that way on occasion.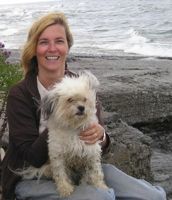 Instructor:
Andrea Harrison
Andrea Harrison (she/her) is passionate about all species, including dogs and humans! Having lived with dogs her whole life, Andrea was an early convert to positive training for people and dogs. She has taken this message to the media many times...(Click here for full bio and to view Andrea's upcoming courses)