Course Details
Fronts and finishes are found in every level of obedience and rally, and the points really start adding up!
This class is intended for both students teaching fronts and finishes from scratch, and also those looking to fine tune their performance. We will look at what skills are important for perfect fronts and finishes, and break down how to teach them. We will explore the use of multiple different tools and methods to teach these skills and discuss the pros and cons of each. We will also look at different options for reinforcement for the most effective and efficient training results. We will also cover diagnosing problems and identifying solutions.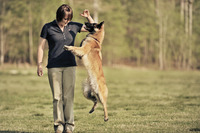 Instructor:
Hannah Branigan
Hannah Branigan (she/her) has been training dogs and teaching people for more than 10 years. She is a Certified Professional Dog Trainer (CPDT-KA) and a Karen Pryor Academy Certified Training Partner (KPA-CTP). Hannah is the owner of Wonderpups, LLC, and teaches workshops...(Click here for full bio and to view Hannah's upcoming courses)
For answers to commonly asked questions see our FAQ page.