Course Details
This class will focus on preparing the dog for TEAM's advanced levels 4-6. The exercises in these advanced level are designed to prepare a dog to compete in any obedience organization through the highest levels. Exercises are designed to specifically create a thinking dog who can process cues in a variety of orders with distractions!
Lectures in this class will look at the overall challenges presented at the higher levels and group them into themes such as how to have your dog work closely by distractions, perform positions in motion, and discriminate cues at a distance. The goal is that you will be able to break down any TEAM (or any high level obedience) exercise and successfully teach it to your dog! It will essentially be a guided handler's choice class.
Examples of skills we will be working on include positions in motion (from heeling, recalls, and send aways), lots of work on thinking regardless of where the reward/distraction is, advanced variations with retrieves, and combining skills in novel ways to create a thinking dog.
Students do not need to be interested in the TEAM program in order to take this class. If your goal is competing in obedience trials of any organization, this class will be a big step towards rounding out your dog's foundation! Take a look at the prerequisites to see if it is a good fit!
Gold students will be able to work through any TEAM exercise from levels 3 through 6, or any obedience exercise from any organization that relates to the lectures (all of the open and utility level exercises fit in this category except for general heeling skills).
Teaching Approach
Lectures are released at the start of each week with all lectures released within the first 4 weeks. The lectures are broken down by each skill, often in multiple parts. I have written objectives and then written instructions for each step followed by multiple video examples for each step. The videos are usually between 30sec to 2min long and are taken from training sessions of a variety of dogs. I do not talk to the camera in the videos and do not have subtitles. At the end of each lecture is a homework summary with the steps quickly summarized in order.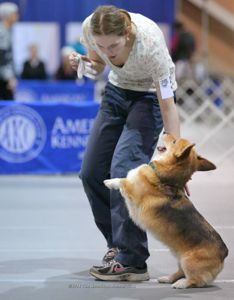 Instructor:
Laura Waudby
Laura Waudby (she/her) trains and competes in obedience, rally, and agility. She was halfway to her OTCH with her UDX corgi, Lance, before his uexpected early retirement. She also has championship titles in USDAA and UKI. By day...(Click here for full bio and to view Laura's upcoming courses)