Course Details
Did you know that the objects around your dog exert pressure on them when they are searching? And that your location can add to that? If you want your dog to be able to source hides quickly and effectively when the hides are deep or in tight locations, you need to work on your dog's desire to work through pressure.
Some dogs are more pressure sensitive than others. You may not even realize that your dog IS pressure sensitive because their body language can be so slightly different than when searching normally. Building your dog's comfort and desire to drive into spaces is a key component of teaching the dog to assume that "no hide is inaccessible".
This workshop will build your dog's speed to source in tight areas and increase your dog's commitment to finishing the hide before moving on.
In this workshop, we will cover what to look for in order to assess your dog's sensitivity to pressure along with setups that you can use to build pressure resilience. Homework for the working students will include setting up these scenarios and submitting them for review.
Watch the Trailer
---
Lecture Publish Date: Sunday June 5th
Video Submissions Due Date: Sunday June 12th @ 12pm noon PT
Feedback & Questions Video Publish Date: Wednesday June 15th
---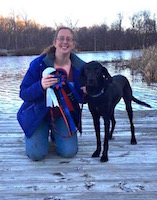 Instructor:
Stacy Barnett
Stacy Barnett (she/her) is a successful nosework competitor, being one of only a handful of teams titled through the Summit Level (SMT) in NACSW with her dog, Judd. In fact, she and Judd have earned THREE Summit titles (SMTx3)! Stacy is also an international clinician and AKC scent work judge. (Click here for full bio and to view Stacy's upcoming courses)