Course Details
Curious about what's so special about dog treadmills? Not sure how to get your dog started on a treadmill? This workshop is for you!
We will cover dog treadmills versus human treadmills, maintenance of treadmills, and how to steps to getting your dog comfortable walking and trotting. We will also go over some common trouble shooting.
This workshop should take your dog from not knowing how to do the treadmill to do workouts on the treadmill.
I have introduced many dogs to treadmills both in my fitness work and rehab work. I will use food as the main reinforcement for building the behavior.
This course does not cover carpet mills or slat mills. Working spots should have access to a treadmill to complete the homework. This course is not for dogs recovering from an injury. The dog should be cleared to use a treadmill and cleared to jump on and off treadmill height.
Watch the trailer
---
Note: This is a repeat workshop that has run previously under a different course number. Please review your workshop library to make sure this would not be a duplicate purchase.
---
---
Lecture Publish Date: Sunday May 29th
Video Submissions Due Date: Sunday June 5th @ 12pm noon PT
Feedback & Questions Video Publish Date: Wednesday June 8th
---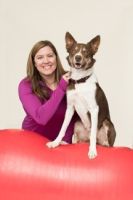 Instructor:
Leslie Eide, DVM
Leslie Eide (she/her) graduated from Colorado State University's veterinary school in 2006. She completed a rotating internship in small animal medicine in Albuquerque, NM. She continued her education by becoming certified in canine rehabilitation through the Canine Rehab Institute...(Click here for full bio and to view Leslie's upcoming courses)