Course Details
Mental preparation and mental management for handlers competing in Nose Work can improve performance and make the competitive experience more fun and enriching. Learn how to channel nervous excitement or "trial nerves" to improve performance rather than hinder it.
Mental Management techniques help you learn how to control your thoughts and tame your mind "chatter" before, during and after a trial. When you feel focused and confident, you are at your best as a handler. You trust your dog right? Do you trust yourself?
---
About the Instructor: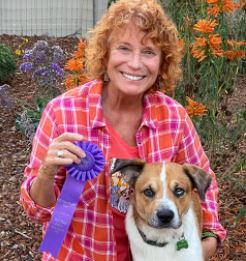 Teah Anders (she/her) founded Gentle Touch Pet Training in 1999 and has successfully taught thousands of people the clicker training method. In 2008, Teah published a comprehensive dog training book entitled, "Click 'n Connect: Training Your Dog a Lifelong Journey." In 2021, Son Care Foundation purchased Gentle Touch Pet Training and Teah has continued to instruct her favorite dog sport, K9 Nose Work.
Teah is a Certified Management Instructor (Level III) through Mental Management Systems in Texas. Since 2013, she has been traveling the U.S. sharing Mental Management concepts with clients who compete in dog sports helping them perform at an optimal level, consistently under pressure. She has taught many group seminars and smaller or personal on-line classes on the incredible concepts of Mental Management. Teah has helped many handlers across the country learn more about how to effectively handle their thoughts during competition and become even better handlers.
Teah has been a Certified Nose Work Instructor through the National Association of K9 Scent Work since 2010 and currently teaches Nose Work Classes. She is a NACSW Certifying Official (CO) and judge for trials and CO and judge for Odor Recognition Tests (ORTs). She is a frequent NACSW Trial and ORT Host and has enjoyed instructing at NACSW/Dogs of Course NW Camps in CO, GA and PA. Teah is a Certified Professional Dog Trainer through the Certification Council for Professional Dog Trainers and is a professional member of the Association of Pet Dog Trainers (APDT). Teah has also earned a CAP2 (Competency Assessment Program – Level 2) certification through Kay Laurence's Learning About Dogs organization in the UK. She has been a Canine Good Citizen (CGC) Evaluator through the American Kennel Club since 2004.
In her career of over 21 years at Gentle Touch Pet Training, Teah has taught Nose Work, puppy kindergarten, elementary, intermediate and advanced training classes. She developed and instructed a Feisty Fido's class for reactive dogs. In addition, Teah helped thousands of families with private in-home training and behavioral consultations.
In her free time, Teah enjoys training her own dogs and competing in the sport of K9 Nose Work. She is currently competing in Nose Work with her dog Shamie, an English Cocker, at the Elite level. She is just starting her NW competitive journey with her youngest dog, Reacher, a Lab/Border Collie mix. In the past, Teah has competed in Musical Canine Freestyle with her Pug, Hally, who is the first Pug to earn both beginning and novice titles through the World Canine Freestyle Organization. Teah and Hally, also certified through Therapy Dog's International, and had great fun cheering folks up in visits to elderly care facilities. She has also shown her dog Shamie in AKC Conformation earning Shamie's breed championship title.
Teah has always believed that continuing education is a priority. She has attended seminars around the country on many topics related to dog training, dog sports and dog behavior. Several highlights include many Nose Work Seminars offered through NACSW, Mental Management System training with Lanny Bassham, the Animal Training Program at Shedd Aquarium with Ken Ramirez, Karen Pryor's Clicker Expos, Susan Friedman's Living and Learning with Animals Seminar, APDT Conferences, Bob Bailey's Chicken Camp and many more. She hosted many seminars bringing world-class trainers such as Kay Laurence, Sue Sternberg, Steve and Jen White, Ken Ramirez, Patricia McConnell, Michelle Poulet, Pat Miller and Kathy Sdao to California's Central Coast.
Teah holds a B.S. degree in business and an M.A. degree in Natural Resources Policy, Communications and Management. Although Teah originally learned clicker training in 1989, it was when she made the move to California that she had the opportunity to move from the corporate arena, where she worked with environmental issues, to help people live happier lives with their dogs. Teah lives with her husband, Chuck, and five dogs in Nipomo, CA.