Course Details
Have you taken Melissa's class on building a website and found... you want more?
In Building a Website Advanced: Handler's Choice we'll take a look at a few of the most common additions students want to make after their intial design is done. There will be roughly 1-2 lectures a week, however all of the lectures will be completely optional and many will be tailored to the specific goals of the working spots.
This is a handler's choice class — that means that during this 6 week course students can decide on WHATEVER it is they want to work on for the duration of the course!
Once gold students have all checked in, Melissa will update the description to show what they plan to work on.
How the levels work for this class:
If you're a gold level student, you'll include in your introduction if there are specific aspects of your site you'd like to work on or elements you'd like to add. Melissa will help you each step of the way, providing feedback on design, copy, and overall website planning, in addition to general questions. This is the next best thing to having a professional do it for you!
If you're a silver level student, you can ask general questions — and, in addition to general questions, you can get Melissa's help and feedback on two custom solutions or her help problem-solving any two issues.
And if you are a bronze level student, you will have access to all of the information shared with the gold students as well as the new lectures that are only available in this class.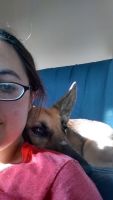 Instructor:
Melissa Breau
Melissa (she/her) is FDSA's resident marketing geek. She teaches two classes here at FDSA: Marketing for Pet Professionals and Building a Wordpress Website.