Course Details
In the recent online Nosework Conference, "Know the Nose", hosted by FDSA, as a part of the upper level competition panel I was asked how my training has changed from my first Nosework dog. My answer was that with my first dog, I didn't know what the destination looked like and all I had to go on were incremental goals of working to the next level. Now, I train for the qualities that I want to build in my dog. When I start that new dog I am thinking about what I need to do to turn that dog into my next Summit dog (or how to help them fulfill their potential regardless of what that looks like). I train for Excellence and Fluency. This course is focused on QUALITY.
This course will cover a different type of "Quality" every week that I find to be critical in the development of an incredible Nosework star. These are also Qualities that I work on when trying to build and fine tune my dogs at the Elite and Summit levels. Our work and setups that week will be focused on that "Quality". You will also have concept lectures that cover things like how to effectively increase the challenge level, how to keep your dog "in balance", training vs trial prep, and much more.
(Although I DO utilize these concepts very early in my training, working spots for this class will get the most benefit if already working at the Master/NW3 level and up).
The Qualities that we will cover in this class include:
Clarity in Source
Desire and Drive for Source
It's all about the PACE
Bulletproof Thresholds
Building Expectation for Close Proximity
Using Thermals
Just some of the Concept Lectures that will be sprinkled throughout this class include:
Building hide commitment
Raising criteria successfully
Figuring out WHAT to work on
Assessing a search area
Finding the balance between Hunt - Find - Alert
Training for fluency vs prepping for a trial
Large areas vs setting puzzles
This class is suitable for dogs who are CONFIDENTLY working and training in novel locations and who have been for some time. This class is NOT for the brand new dog who has just recently started searching away from home. This is a class that builds the QUALITY of searching…. Which the the "How Good"…. This class is suitable for up and coming and for advanced dogs who need a boost from "OK" to "Incredible".
Teaching Approach
Each week a series of lectures will be released (usually 3 to 5). The lectures will be a combination of supporting theory and setup examples. Some self reflection will be needed in order to apply the concepts to the learner's situation. The concept lecture will be longer than the weekly lectures that contain the homework. The weekly homework will not be prescriptive and the learner will need to adapt the examples to something suitable for their situation.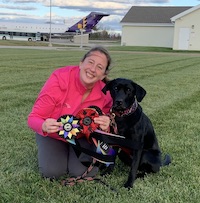 Instructor:
Stacy Barnett
Stacy Barnett is a top nosework competitor and trainer, being the first handler to title multiple dogs with multiple Summit Level titles in the National Association of Canine Scent Work (NACSW), (Judd SMTx3, Brava SMTx2). Stacy has been a faculty member at Fenzi Dog Sports Academy since 2015 (Click here for full bio and to view Stacy's upcoming courses)