Course Details
Many dogs naturally carry objects in their mouths. They pick up and play with toys, snatch available unattended food, and "steal" all sorts of objects they find. Many people work to discourage this sort of behavior. Instead, we can make that tendency work for us rather than against us by putting 'picking things up' and then 'putting them in a specific place' on cue. These are incredibly useful complementary skills to teach our dogs. A dog who can pick up and bring objects on cue is a great help in day to day life. In addition, this ability is the basis for some very impressive tricks!
Dogs in working spots should have a basic retrieve behavior with at least one object (dumbbell or toy)

Workshop exercises will include:
Generalizing pick up behavior
Establishing the cue
Increasingly challenging pick-ups
Transporting the object
Deliver it here!
Fun & helpful applications (put away your toys, ring stack, recycle, laundry helper)
Watch the trailer
---
Note: This is a repeat workshop that has run previously under a different course number. Please review your workshop library to make sure this would not be a duplicate purchase.
---
Lecture Publish Date: Sunday December 5th
Video Submissions Due Date: Sunday December 12th @ 12pm noon PT
Feedback & Questions Video Publish Date: Wednesday December 15th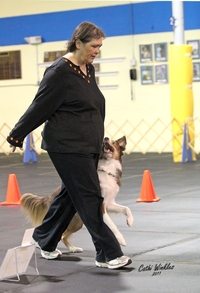 Instructor:
Deborah Jones
Deborah Jones, Ph.D. (she/her) is a psychologist who specializes in learning theory and social behavior. She taught a variety of psychology courses at Kent State University for the past 20 years. Deb has been training dogs for performance events for the past 25 years and was an early...(Click here for full bio and to view Deb's upcoming courses)