Course Details
This class is about creating the AMAZING Container Dog...
Containers are tough in that they really are NOT a searching exericse... they are a Selection exercise. That means that we can get all sorts of "other stuff" pop up containers that we don't necessarily get in other elements. We can get destructive behavior, false alerts, missed hides... and on top of that, we can have distractions in containers. This class addresses these topics in a way that you can work on what YOU need to work on...
The class will start with an assessment to detemine where you should focus. Then based on the assessment, you will work modules that apply to your team... if you make great progress in the Alerts Module and you want to work the Distraction Module later in the class, you can!
The emphasis of this class will be (you can pick and choose what you work on):
Developing a focused and passive alert response (teaching an Alert)
Correct arousal / methodical search pattern
Distractions
Fixing False Alerts with Clarity
Building Focus on Containers
Handling
This class is appropriate for both Food and Toy Reward dogs.
Here's a video of Prize working mega distractions:
Teaching Approach
This class will be guided primarily through assessment of container performance by the learner and the instructor. There will be short lectures published each week with both written description of the exercises as well as video examples. This class will focus on the learner working on the root of container problems rather than focusing on running full practice searches. The learner will need to apply concepts related to increasing criteria when setting up container searches.
This class will have a Teacher's Assistant (TA) available in the Facebook study group to help the bronze and silver students! Directions for joining will be in the classroom after you register.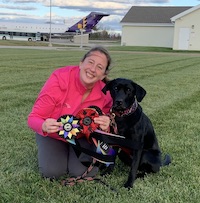 Instructor:
Stacy Barnett
Stacy Barnett is a top nosework competitor and trainer, being the first handler to title multiple dogs with multiple Summit Level titles in the National Association of Canine Scent Work (NACSW), (Judd SMTx3, Brava SMTx2). Stacy has been a faculty member at Fenzi Dog Sports Academy since 2015 (Click here for full bio and to view Stacy's upcoming courses)