Course Details
This class will introduce you and your dog to dog-powered sports and prepare you both for the joy and excitement that working together can bring! Maybe you already hit the trails for walks, and now are looking for a way to increase the challenge, to improve your dog's fitness, or prepare for competition. Or, maybe your dog needs more exercise but cannot be off-leash. There are many reasons that dog-powered sports are practical and appealing!
These sports provide a directed natural outlet for the average dog's desire to walk, trot, run and pull! For the higher energy dogs in the crowd, dog-powered sports can be a safe and efficient way to meet big exercise demands. You'll be busy too- don't just plan on going along for the ride- we humans are hardworking team-members too. If you've been looking for a reason to get busier, to enjoy nature, to explore your local area- or if you've been looking for a new and interesting type of sport to compete in it - you've found it! There is a little something for everyone here!
But the power in pulling sports is more than just pure raw power and calorie burning! Whether your team consists of you and one dog, or you and several, the teamwork is unlike any other sport out there. There is a special connection, a trust, and a thrill in letting your dog take the lead and knowing they have the skills and abilities to keep you moving. Building confidence and perseverance are two common side effects for dogs who grow to love the teamwork of pulling.
Under the umbrella of "Dog Powered Sports", we'll include canicross, bikejorring, skijorring, scootering, and dog sledding. The foundation skills for each are the same and it all starts with a canicross model so the initial training exercises will begin as groundwork and on foot. This class will not cover the sports of weight pull, draftwork/carting, or sulkies, which each have their own specialized skill and equipment requirements.
Universal foundations skills for dog-powered sports are startline behaviors, pulling, directional cues, speed changes, passing distractions, and stopping. This class covers training, handling, and timing considerations for these skills. It also covers equipment, harness fitting, best practices for training in public, and safety concerns such as trail conditions, conditioning, temperature, and hydration. An overview of racing/competition options is also included. There will be an emphasis on keeping things fun and introducing skills in a functional way that will ensure success for you and your dog!
Teaching Approach
Lessons will be released at the beginning of each week and will contain several subtopics with written lectures, demonstration videos, and specific homework to work on. Most videos are short- 30 seconds to 2 minutes, with the occasional longer video as required. Some videos have voice-over explanations. Some lessons include video examples of both a dog in the learning stages, as well as a more advanced dog in order that students can see how skills progress. Some lectures are more conceptual in nature but most will contain short homework assignments. Homework for each week is progressive, and so teams should expect to complete lessons in order, though the time that it takes to do so will vary greatly for each team. Feedback for gold students is a mix of written encouragement, photos/screen shots, and occasionally extra video instruction.
This class is heaviest with reading in the first two weeks; this class is intended as an introduction to dog powered sports, so a lot of background is provided early on. Reading tapers to a lighter load as the class progresses, so expect to spend more time training and away from the computer in later weeks!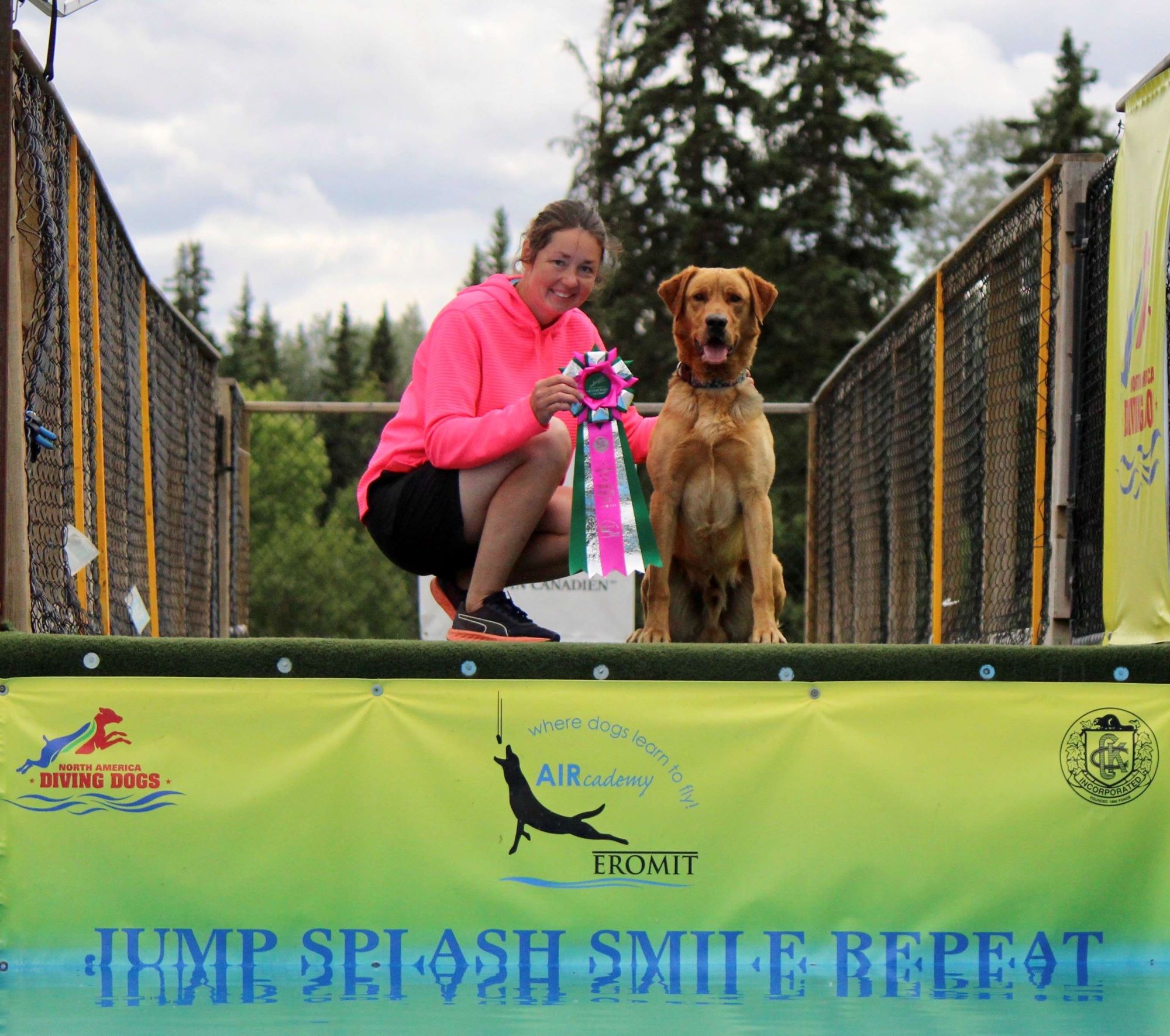 Instructor:
Erin Lynes
Erin (she/her) is a lifelong dog enthusiast from Quesnel, British Columbia, Canada. Erin is certified as a Karen Pryor Academy Training Partner, a Certified Profesional Canine Fitness Trainer, a Licenced Family Dog Mediator, and as a Cani-Fit Leader, ...(Click here for full bio and to view Erin's upcoming courses)