Course Details
While the most fun part of protection sports is the biting part, there is a lot of control work that needs to be done to do the protection exercises effectively. Secondary obedience (obedience in the presence of a decoy or helper) is the heart and soul of these exercises, a dog that is not able to show control will not only lose points but could be disqualified or even be a danger to the decoy or themselves. A dog that shows control and precision even in the presence of the decoy is a powerful sight, it's what we all strive for in protection sports.

This class will teach several control games that can be done at home without a decoy or helper. Then the same games can be used in the presence of a decoy to help transfer the idea of control and maintaining clear behaviors despite that major distraction. Focus will be given on maintaining drive for bitework as well as increasing the desire to work with the handler.

This class is suitable for protection sport dogs of any age, these are foundation style games that do not require advanced known behaviors.


Teaching Approach
Lectures will be released at the beginning of the week and will be comprised of both written lecture as well as short video demonstrations. Each lecture will include homework to work on for the week.


This class will have a Teacher's Assistant (TA) available in the Facebook study group to help the Bronze and Silver students! Directions for joining that Facebook group will be in the classroom after you register.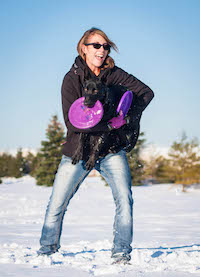 Instructor:
Sara Brueske
Sara Brueske (she/her) has been training dogs for over 15 years, and has experienced a large variety of breeds and sports during that time. Having graduated as a Karen Pryor Academy Certified Training Partner ... (click here for full bio including Sara's upcoming courses)