Course Details
Have you ever watched a freestyle performance that mesmerized you? Not because the dog was performing a lot of difficult or fancy tricks or because the handler had a great costume and danced well, but because as a team, the dog and handler moved in a way that made the performance appear effortless, fluid and polished. It was pleasing to the eye and provided a sense of naturalness.
And we have all seen routines that in spite of having the same behaviors, and the same level of skill in performing those behaviors, the routine appears somewhat awkward or choppy, maybe even forced, and flow of movement doesn't come easily.
In this course you'll learn how to create sequences within a routine that provide ease of movement for both dog and handler, that is pleasing to the eye and can increase your score, no matter what venue or what level you are competing in.
We will not be choreographing full routines, but if you have a sequence or two in a current routine that needs some polish we will work that into the exercises.
Teaching Approach
Lectures are released weekly and include written and video descriptions of each exercise. Some exercises are in a step-by-step approach while others will allow dog and handler teams to create their own exercises and sequences. Supplemental lectures may be provided depending on need.
Homework is listed at the end of each lecture for easy reference.
Video demonstrations of the exercises include the instructor working with her own dogs as well as examples from other dog and handler teams. There are a variety of breeds and sizes represented in the demo vids. Demonstration video length varies between 1-2 minutes. Many of the demo videos are also captioned.
Instruction is suited to students of all levels. Please see pre-requisites for necessary skill to benefit most from the class. Students will be provided with both general and specific written feedback, often including timestamps for clarity. Students will be able to show their work for any previous weeks as well as the current week's exercises for continued feedback.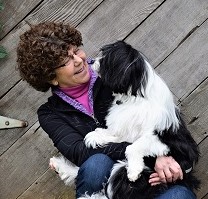 Instructor:
Julie Flanery
Julie Flanery (she/her), CPDT-KA has been working professionally with dogs and their handlers since 1993. She focuses on the needs of the dog and helping people form a strong relationship, through clear communication, and positive reinforcement. She has placed Obedience...(Click here for full bio and to view Julie's upcoming courses)