Course Details
This course will cover everything I teach my performance dogs when they come home at 8 weeks until around 6 months of age. The order in which I teach things build on each other. This is also the same format I use when taking in a rescue or older dog that needs training. This course will focus mostly on Relationship/Life Skills and start with some body awareness.
Teaching Approach
I teach a lot of skill-based classes. You will find that I write several short lectures a week and illustrate them with several short (usually 30 seconds or so) clips. The videos are designed to illustrate the lecture. Homework is specific and the same for everyone in the class and will follow a set path.
This class will have Teaching Assistants available in the Facebook discussion group to help the bronze and silver students! Directions for joining can be found in the classroom after you register.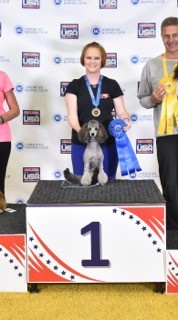 Instructor:
Barbara Currier
Barbara Currier (she/her) got involved with agility shortly after adopting her Chihuahua. In 2004, Barbara and her husband Michael were relocated to VA and shortly after she started teaching agility at All Dog Adventures (fka All Dog Playskool) in Richmond, VA. (Click here for full bio and to view Barbara's upcoming courses)