Details
This purchase includes two previously run workshops. You will receive access to both the original presentation recording and the student feedback recording for both workshops. There is no opportunity to submit video or ask questions.
---
Workshop #1 - Precision Heeling
Do you have a goal of crisp and precise heeling, but you aren't quite sure where to start? Or maybe you have a dog with established heeling that lacks precision? This workshop will show you how to create heel position, step-by-step, via the pocket hand method. If you master the steps presented, your dog will be able to find heel position, pivot left, pivot right, take a step or two forwards, backwards, and laterally, all without external props! It is neither expected nor likely that you will complete all of the steps within one week.
Denise will also touch on removing the cookies from your hand and eliminating the pocket hand target, but will not address distractions or longer stretches of heeling. This workshop is all about the basics; setting that fantastic foundation!
Check out this promotional video to better understand what will be covered:
---
Workshop #2 - Precision Heeling: Formalizing Your Hand Position
This workshop is a follow up to Denise's first workshop titled "Precision Heeling."
In this intermediate level workshop, Denise will show you how to remove the pocket hand lure which was introduced in the first workshop and place your hand on your stomach in classic "AKC" position. Denise will also touch on the process of removing cookies from your body, adding a hand touch to the first step of movement and she will discuss the "drives/control" dichotomy - which one does your dog need and how might you accomplish that? If you watched the first workshop and are ready to progress, or if you took Denise's Precision Heeling Class online and struggle to get rid of hand help, then this is the workshop for you!
At the end of this workshop you will have learned the skills for removing hand help for the dog, moving your hand to your stomach, moving the cookie out of your hand altogether and getting started with adding some energy to your work!
Check out this promotional video to better understand what will be covered:
---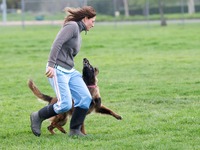 Instructor:
Denise Fenzi
Denise Fenzi (she/her) has competed in a wide range of dog sports – titling dogs in obedience (AKC and UKC), tracking (AKC and schutzhund), schutzhund (USA), mondioring (MRSA), herding (AKC), conformation (AKC), and agility (AKC). She is best known for her flashy and precise ... (Click here for full bio and to view Denise's upcoming courses)