Course Details
As a dog sport enthusiast, you know that keeping your dog fit is important to prevent injuries that could sideline or even end your dog's career. Unfortunately, understanding HOW to keep him fit is much more complicated.
This course will build on the basics of anatomy, function, and movement that were introduced in the K9 Conditioning 1 course, and then take conditioning, strengthening, and endurance exercises to a whole new level. Learn how to apply basic principles to everything from puppies to seniors, little dogs to the big guys, and special body types like long, long backs. Tips will be shared for developing stretching routines, warm up/cool down programs, and using special equipment like treadmills. The end result will be more sophisticated knowledge in keeping your dog fit and safe!
This level class will also introduce a program for YOU to work on your strength and balance with a simple exercise routine. We will begin with simple exercises designed to help work your core and your strength. These exercise principles are based on a 90 second exercise routine founded by Pete Cerque. This will be a wonderful adjunct to your workout with your dog!
Teaching Approach
Lectures will be released weekly. I will also add supplemental lectures in, shorter than the main weeks, to assist with the continued learning. In the weekly lectrues, there will be a set of homework questions and videos. The supplemental lectures may be commented on within the individual students' thread or in a discussion thread.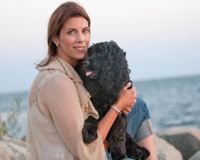 Instructor:
Debbie (Gross) Torraca
Deborah (Gross) Torraca (she/her), DPT, MSPT, Diplomat ABPTS, CCRP has been involved in the field of animal physical rehabilitation for over 17 years and currently owns a small animal rehabilitation practice in Connecticut called Wizard of Paws Physical Rehabilitation for...(Click here for full bio and to view Debbie's upcoming courses)