Course Details
This class will focus on that ever illusive TIMING that everyone talks about. What does your instructor mean when they say "You are LATE...AGAIN"?
When exactly does YOUR dog need the info to turn, to go straight, to go into handler focus or obstacle focus?
Exactly what the heck do people mean when they talk about looking at the line?
How do you stay connected?
We will utilize coursework to help you develop your timing. There will be beginner and advanced courses offered for you to work on your timing!
Teaching Approach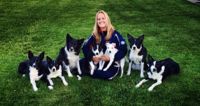 Instructor:
Loretta Mohler
Loretta Mohler (she/her) has been involved in agility since 2003 with her first rescue dog, Ace. Since then she has been involved in a variety of dog training activities including USBCHA herding, competitive obedience, rally obedience, and service dog training. In 2007, Loretta...(Click here for full bio and to view Loretta's upcoming courses)