Course Details
Does your dog struggle with understanding what you're teaching?
Do you have a lot of extraneous behaviours popping into your work, such as barking, spinning, sniffing, foot shuffling, or creative improvising?
Does your dog lack motivation or lose interest while training?
Or... do you just want to get really nerdy with ALL THE THINGS!?
If you answer yes to any of the above, this class is for you!
Beyond the Click (affectionately known as BtC) was inspired by the concept of +R2.0, a term coined by Amy Cook, that so aptly encompasses the latest evolutions in positive-reinforcement-based training. Specifically, we put our dog's (or cat's, or horse's, or...!) emotional state at the core of the training.
What is +R2.0? To me, in its essence, +R2.0 is both a philosophy and a set of skills and practices. It shifts us away from a mindset of control and towards making training a two-way communication system in which our animal learners have a voice and a partnership role in the training process.
Practically speaking, we'll be exploring concepts such as "loopy training", "loopy listening", "errorless learning", "poisoned cues", "home positions", "marker systems", and more for clearer communication. We'll pay careful attention to emotion through "start buttons" and other methods of offering choice and giving voice. And we're going to radically rethink how we approach errors.
We'll also work on effective teaching skills, such as training set-up, incorporating balance, and flow-charting. (Please see the syllabus, below, for more details on the course content)
Consider this an advanced foundations course, with skills you can extrapolate to any sport or activity!
"Beyond the Click" is a concepts class with the following objectives:
To teach you the concepts and skills you need become a more effective trainer through the latest in science-based training techniques;
To help you deepen your relationship with your dog by incorporating emotions (theirs and yours) into your training, learning to ask better questions, improving your listening skills, and knowning how to respect your dogs' answers;
To help you become a more independent trainer by teaching and sharpening the skills you need to reverse-engineer behaviours so that you can create your own solutions to the unique training goals and challenges you and your dog encounter.
The ideas presented in this class have completely revolutionized the way I interact with and train my animals. They may very well do the same for you. So, grab some treats, a clicker, and your dog, and come join the adventure!
Teaching Approach
This course is a concept course. Exercises will be provided to help you put these concepts into practice. The material is presented predominantly in written format with short videos to illustrate the practical exercises. Feedback will be given in written response and, where it is relevant and helpful, in video format.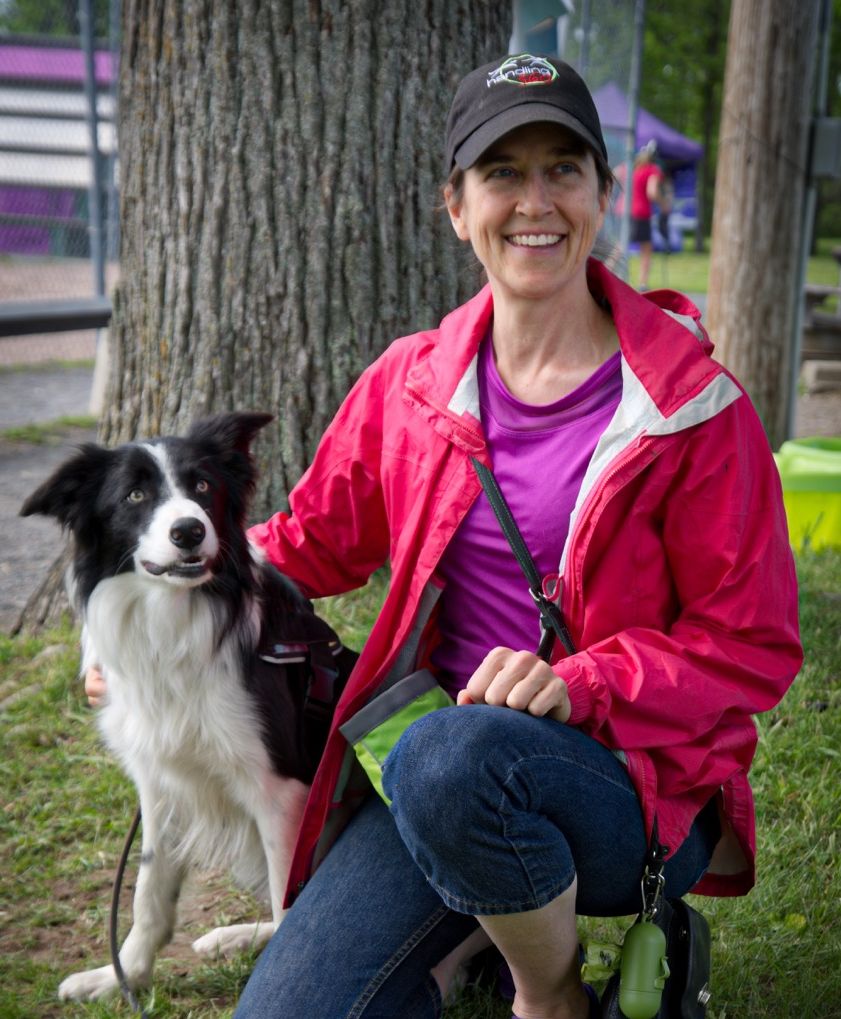 Instructor:
Helene Lawler
Hélène Lawler (she/her) got her first dog, a border collie named Jake, in 1989 and has been training dogs ever since. Over the years, she has trained in obedience, search and rescue, protection sports, rally, tricks, and freestyle, among others. She discovered agility in 2004, and herding in 2005, which have become her main focus and passion in dog sports. (Click here for full bio and to view Hélène's upcoming courses)