Course Details
This is a class about preparing our dogs for the competition or seminar environment.
I developed this class because I want to teach handlers how to ask these questions of their dogs in every environment they expect to train and trial in:
Can you collect reinforcement?
Can you hear your reinforcement cues?
Can you hear your behavior cues?
Do you feel safe?
Can you control your excitement?
Can you switch reinforcement?
And what does the dog saying "no" to any of those questions look like?
It also doubles as a class on how to achieve calmness and confidence in certain life skills that I think are vital for creating great traveling companions, ones you can take anywhere. Quiet calm crating, loose leash walking and protocols to "hear" what your companion dog is telling you about the environment are all good things. When we have those things in every area, training the competition behaviors comes easily! What this class is not is a class on training. I'm assuming you have the chops and the knowledge to train basic skills, my job is to tell you and get you to practice those skills in 5 different environments in class. I'll include some basics before expecting some out and about behaviors, but I'm expecting students and dogs to have some knowledge of shaping behaviors, of what location marker cues are, etc…. For more information on how to shape, and train, refer to many of the foundation skill classes offered in the Fenzi academy or take my Crucial Concepts for Competition class. For anxiety or reactivity, I recommend Amy Cook's Management or Bogeyman classes, and for multi dog/barking/stationing concepts, I recommend Lorreta's Multi Dog class.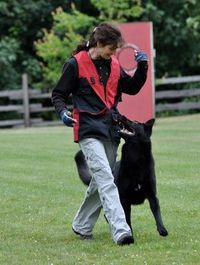 Instructor:
Shade Whitesel
Shade Whitesel has been training and competing in dog sports since she was a kid. Always interested in how dogs learn, she has successfully competed in IPO/schutzhund, AKC obedience and French Ring. Her retired dog, Reiki vom Aegis, IPO 3, FH 1, French Ring 1, CDX, was 5th at the