Course Details
Does the thought of training without a cookie in your pocket make you nervous? Are you happy with the quality of your work, but have no idea how to prepare for the rigors of competition? Do you worry about getting a high quality performance when there are distractions nearby? Are you comfortable training in a novel environment without your toys and cookies to keep your dog engaged? Do you understand the concept of engagement, and can you get it without showing your dog a reinforcer?
The purpose of this two-part class is to move you from the acquisition of behaviors to preparing for competition - two very different things! To do this, we will systematically consider three of the factors that are essential for a competition dog: Generalization of behaviors, proofing for distractions and reducing "classic" (toy and food) reinforcers. This class will include short lectures on each of these topics, along with specific exercises and a training plan that will allow you to reach your goal: the dog show!
This class will also lay the groundwork for how to handle those "I have something better to do" moments. Rather than resorting to a leash pop, we will discuss the alternatives which will effectively get you to your goal - sustained focus - without the need for physical compulsion. Part two (available for self study only) of this class will consider this issue much more extensively and in depth.
While all of the examples will be obedience or rally specific, this class is designed to be valuable for competitors in all sports, from agility to freestyle to obedience and rally!
Participants will actively practice the process of preparing for the ring, so your dog should be close to ring ready for a given class of either obedience or rally competition. If you cannot get the behaviors you want even when you're using reinforcers, or if your interest is not specific to either proofing, generalization or reducing reinforcers, then this class is premature. This class also recommends the ability to get away from your home training field on several occasions over the course of the class.
Is this course right for you? This is an excellent course for people who prefer targeted, shorter lectures with video illustrations, detailed tests to check a dog's comfort and readiness with various skills and a range of solutions to improve their dog's situation. The course is very detailed in terms of what factors are required to demonstrate competition readiness, but are less detailed in terms of solutions - "it depends on the dog". The videos illustrate the text and do not require that you can hear them to undertand what is happening. The ideal student will be moderately experienced as a trainer/problem solver or willing to seek out additional courses to help if significant holes show up in their dog's training during the process of evaluating their readiness for competition. This course assumes that you will also purchase the second half, as the material continues on in that course.
Watch our short promotional video for this class!
For answers to commonly asked questions see our FAQ page.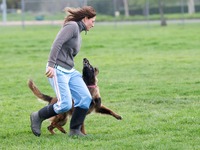 Instructor:
Denise Fenzi
Denise Fenzi (she/her) has competed in a wide range of dog sports – titling dogs in obedience (AKC and UKC), tracking (AKC and schutzhund), schutzhund (USA), mondioring (MRSA), herding (AKC), conformation (AKC), and agility (AKC). She is best known for her flashy and precise ... (Click here for full bio and to view Denise's upcoming courses)