Course Details
In general, training is training and it simply does not matter if a dog is tiny or super sized. But in a world full of big feet, tall people, and large hands, there are some challenges specific to little dogs. Complicating matters, in a world full of large dogs, it's easy for the trainers to feel like their dog's unique needs are being ignored.
If you have a dog who is sensitive to space and pressure, who struggles to work at a distance, or who is intimidated by his fellow canines, this class is for you! We'll focus on making our pint-size partners more comfortable. While this class will teach you relatively few specific obedience or agility skills, it WILL provide a range of foundation skills, exercises, and modifications to allow you to progress more rapidly when you do start to introduce the specifics of your sport.
Join Denise Fenzi and her super star small dog Brito and learn how to make your small dog as confident as possible in this full sized world! Note that some of the video material is demonstrated with larger dogs.
Please Note: This class is also appropriate for larger dogs who are simply extra sensitive and need a confidence boost.
Is this course right for you? This class offers extensive written lectures, no verbal lectures, and many videos of varying lengths (up to 5 minutes), designed to help a student understand the context of what works, what does not work, and how that will vary techniques will vary by dog. It is rare that relevant speaking takes place within a video; they are designed to be watched and follow with the ideas presented in the lecture. There are no specific homework assignments as this is a concept course that requires studying your dog and finding the route that works best for your team. What does your team need to work on? Where will you gain the most benefit? A wide variety of techniques will be suggested and illustrated with video. This class will work best for students who learn best by reading text lectures, watching videos and who feel comfortable trying out a variety of approaches until they find the ones that works best for their dog.
For answers to commonly asked questions see our FAQ page.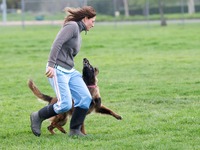 Instructor:
Denise Fenzi
Denise Fenzi (she/her) has competed in a wide range of dog sports – titling dogs in obedience (AKC and UKC), tracking (AKC and schutzhund), schutzhund (USA), mondioring (MRSA), herding (AKC), conformation (AKC), and agility (AKC). She is best known for her flashy and precise ... (Click here for full bio and to view Denise's upcoming courses)