Course Details
There are so many reasons why training tricks are beneficial to your dog, yourself and your relationship, tricks aren't just for entertainment or rainy days anymore! Teaching tricks not only help our dogs learn how to learn but also teaches us how they learn as well. Tricks can be used to teach concepts that appear in competition behaviors allowing us to teach those final behaviors more efficiently and with fewer mistakes. Plus, they allow us to mentally and physically exercise our dogs along with teaching them body awareness and control.
This course will cover a variety of tricks, all handpicked for different functions and benefits. The majority of these tricks are not physically demanding and are suitable for any dog. There is no skill set or previous experience needed for this course.
Teaching Approach
Lectures are comprised of written material with short demonstration videos mixed in. Lectures are released each week and behaviors are grouped together by concept. Feedback is typically given focusing on one or two areas of improvement at a time.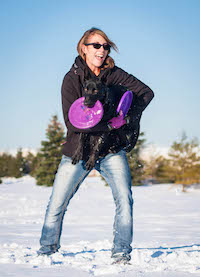 Instructor:
Sara Brueske
Sara Brueske (she/her) has been training dogs for over 15 years, and has experienced a large variety of breeds and sports during that time. Having graduated as a Karen Pryor Academy Certified Training Partner ... (click here for full bio including Sara's upcoming courses)