Course Details
NOTE: This is the SECOND HALF of Bridging the Gap.
Do not purchase unless you have access to the first half!
This part is available for purchase for those who wish to continue on as an optional self-study.
Does the thought of training without a cookie in your pocket make you nervous? Are you happy with the quality of your work, but have no idea how to prepare for the rigors of competition? Do you worry about getting a high-quality performance when there are distractions nearby? Are you comfortable training in a novel environment without your toys and cookies to keep your dog engaged? Do you understand the concept of engagement, and can you get it without showing your dog a reinforcer?
The purpose of this two-part class is to move you from the acquisition of behaviors to preparing for competition - two very different things! To do this, we will systematically consider three of the factors that are essential for a competition dog: Generalization of behaviors, proofing for distractions and reducing "classic" (toy and food) reinforcers. This class will include short lectures on each of these topics, along with specific exercises and a training plan that will allow you to reach your goal: the dog show!
This class will also lay the groundwork for how to handle those "I have something better to do" moments. Rather than resorting to a leash pop, we will discuss the alternatives which will effectively get you to your goal - sustained focus - without the need for physical compulsion. Part two of this class will consider this issue much more extensively and in depth.
While all of the examples and Gold spots will be obedience or rally specific, this class is designed to be valuable for competitors in all sports, from agility to freestyle to obedience and rally!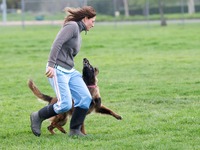 Instructor:
Denise Fenzi
Denise Fenzi has competed in a wide range of dog sports – titling dogs in obedience (AKC and UKC), tracking (AKC and schutzhund), schutzhund (USA), mondioring (MRSA), herding (AKC), conformation (AKC), and agility (AKC). She is best known for her flashy and precise