Course Details
Disc dog is an amazing sport that has a variety of elements suitable for any toy-driven dog. This hybrid "handler's choice" course will allow each team to work on the aspects of disc dog that suit them best but will also contain a basic foundation curriculum with lectures and videos as well. All lectures will be released and the beginning of the course and can be worked on as needed. Handlers can choose a variety of topics including but not limited to foundation flatwork, jump drills, tricks, strategy for games and disc throwing.
This class is suitable for dogs that have toy drive. Handlers may choose to work on drive building if needed. This class is suitable for students that have taken DS310: Flying Disc – Foundation to Flips as a continuation course but it is not required.
Teaching Approach
There are lectures available to work through that are comprised of written descriptions of the exercises as well as short demonstration videos. Handlers can pick and choose what to work on and can work on aspects of disc dog that are not included in the curriculum. Sara will develop individual plans for problem solving or routine building as needed.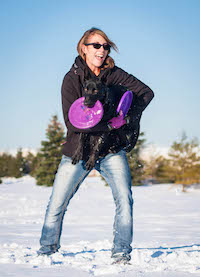 Instructor:
Sara Brueske
Sara Brueske (she/her) has been training dogs for over 15 years, and has experienced a large variety of breeds and sports during that time. Having graduated as a Karen Pryor Academy Certified Training Partner ... (click here for full bio including Sara's upcoming courses)