Course Details
This class will cover International Dog Parkour levels training, novice, intermediate, expert and championship. It is designed for those new to parkour as well as those wanting to train the higher levels or work on their championship journey. It is ALL the things parkour :)
Parkour, also known as "urban agility" is a great sport to boost confidence, build strength and strengthen your relationship. Parkour is a challenging, but fun activity to do with your dog. It includes, jumping, climbing, and balancing. All dogs can participate in some form of Parkour. Once you start Parkour, you will look at the world completely different. You will always be on the lookout for places to play with your dog.
It is fun to look at the environment and find all the new ways to participate in Parkour. You can use trees, benches, walls, logs, playground equipment, picnic tables, boat docks, stairs, the list is only limited by your imagination. Inside can include laundry baskets, exercise balls, scaffolding, carts, stairs, and boards. Parkour should be done in a safe manner, evaluating all obstacles and surfaces before ever asking your dog to interact.
The sky truly is the limit when it comes to Parkour!
This class will provide video instruction on how to teach the different obstacles under International Dog Parkour rules. Videos will include the founders and students of IDPKA, including my 2 dogs, members of the Dog Parkour training page, and videos from the IDPKA workshops. You can visit the website at http://www.dogparkour.org/
Here is a video from our very first Parkour Class:
Teaching Approach
This class covers multiple levels of parkour behaviors, so all the lectures will be released before the third week of class. There are individual lectures for each behavior with instructions in writing and step by step videos, followed by the actual performance. In addition to exercises, there will be a few lectures on key concepts. Homework is not assigned on the concept lectures. Lectures with exercises will include a written portion, example videos, and homework. Most behaviors can be taught inside, however titling does require outside performances. All behaviors can be done outside and great to work on during hikes or daily walks. There will be some bending required and possible quick movements are necessary depending on the level you are working and your dog. If you have questions in regard to content or requirements, please contact me via the instructor link.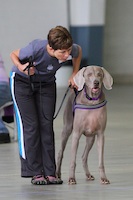 Instructor:
Melissa Chandler
Melissa Chandler (she/her) lives in Ohio and is owned by her Weimaraner and Vizsla. Melissa has been addicted to dog sports since starting in 4H and AKC Jr. Showmanship. She has competed in conformation, agility, obedience, hunt tests, nose work, and rally. She has also...(Click here for full bio and to view Melissa's upcoming courses)