Course Details
Do you wish your dog could hit any weave entry regardless of where you are? Do you get nervous when walking a course and see a particular entry? Do you wish you could leave your dogs in the weaves and trust that they will stay in regardless of what you are doing? If you answered "Yes" to any of these questions then this class is for you!
In this course, we will teach your dogs to LOVE the weaves! They will learn how to fight for their entries and stay in the poles no matter what you are doing. They will learn to be fast and power through with speed and your dog's weave performance will be the envy of all your friends. Don't miss out on the fun!!
Check out our podcast about this course!
https://www.fenzidogsportsacademy.com/blog/e89-barbara-currier-love-weaves
Teaching Approach
"I teach a lot of skill-based classes. You will find that I write several short lectures a week and illustrate them with several short (usually 30 seconds or so) clips. The videos are designed to illustrate the lecture. Homework is specific and the same for everyone in the class and will follow a set path."
.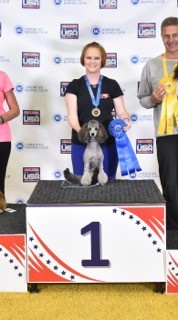 Instructor:
Barbara Currier
Barbara Currier (she/her) got involved with agility shortly after adopting her Chihuahua. In 2004, Barbara and her husband Michael were relocated to VA and shortly after she started teaching agility at All Dog Adventures (fka All Dog Playskool) in Richmond, VA. (Click here for full bio and to view Barbara's upcoming courses)