Course Details
Nosework is the popular new dog sport that is sweeping the nation, and you can get in on the fun! Our nosework classes are taught with the method used to produce the nation's top drug and bomb detection dogs! This backchaining method is effective on almost all dogs, from insecure and unfocused dogs to highly driven and intense workers. The proof is in the pudding; dogs going through only one or two levels of our courses are earning their ORT and NW titles in record time! Even if your dog has failed using other methods, we can help you succeed!
This is the second course in our nosework series and continues on where NW101 left off. If you have not completely caught up with everything in NW101 or starting our program here, that is okay. We will progress from where you currently are. In general, we begin with the assumption that your dog has or is close to having the skills required for an ORT or to trial in Novice containers. We will work through each of the four search elements required for the NW1 title - Interior, Exterior, Container, and Vehicle search - as well as skills for the AKC buried class! We will review the unique challenges each element poses and discuss handling techniques that you can implement to help support your dog while searching.
This class will have a Teaching Assistant available in the Facebook discussion group to help the bronze and silver students with assistance! Directions for joining can be found in the classroom after you register under the Fenzi Facebook Resources thread.
Lecture format:This class offers extensive written lectures, no verbal lectures, and videos of varying lengths. It is rare that relevant speaking takes place within a video; they are designed to be watched and follow the ideas presented in the lecture. Some videos are as short as 30s and up to 3 minutes, with the average between 1-2 minutes long. The lectures are designed to help a student understand the purpose of the exercise and how it might vary by dog. Care is taken to keep lectures short, however on occasion some run a bit long. Each lecture has a homework section at the end. Lectures for each week are rolled out the night before each week so you can plan your training week. Pre-lectures are available before the class starts to review foundation skills and to submit a self assessment and baseline video. A 1 minute unlimited homework video option is available, along with the standard 6minutes option per week. This class will work best for students who learn by reading text lectures, watching videos and who like having structured lesson plans.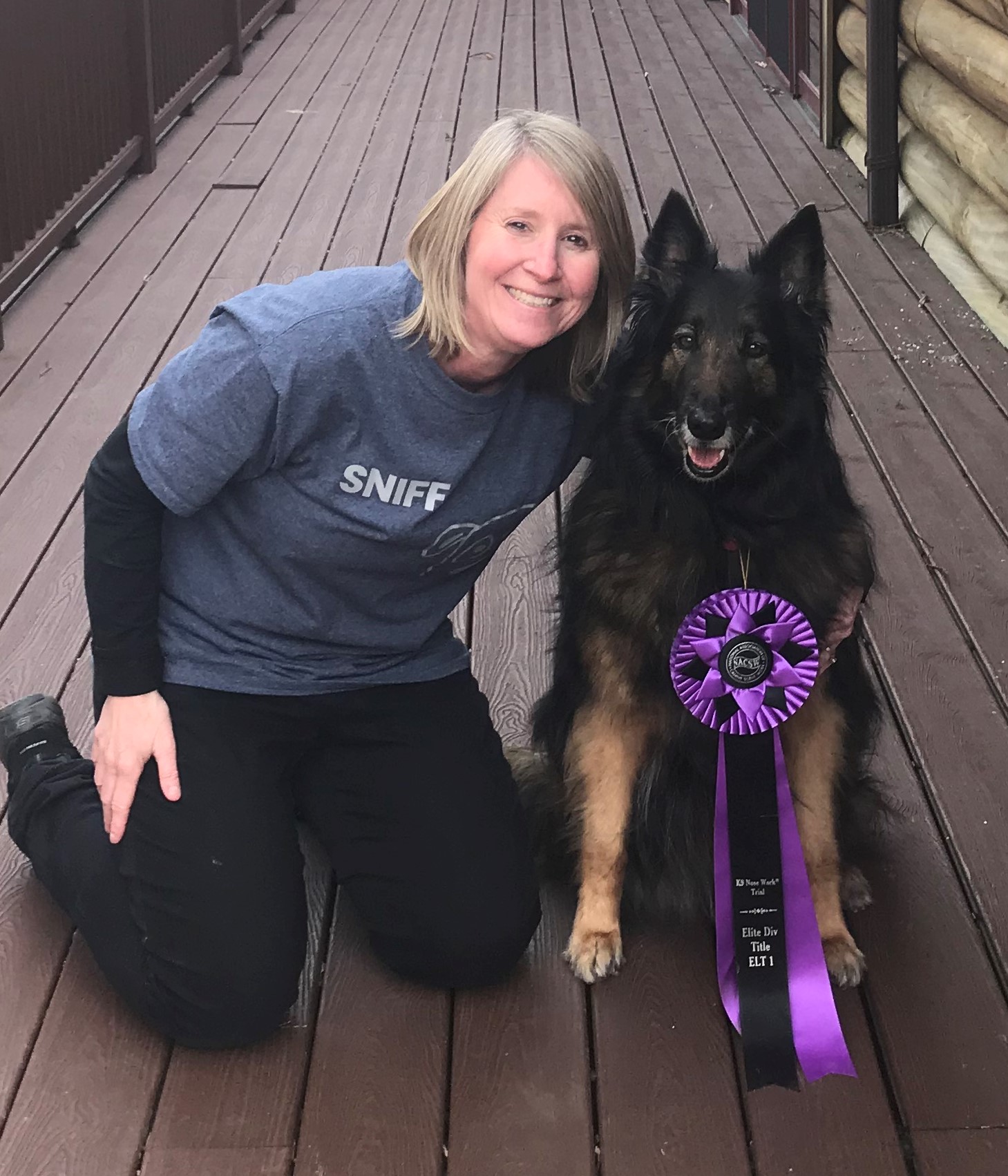 Instructor:
Julie Symons
Julie Symons has been involved in dog sports for over 25 years. Starting with her mix, Dreyfus, in flyball, she went on to train and compete in conformation, agility, obedience, herding and tracking with her first Belgian tervuren, Rival. Rival was the first CH OTCH MACH Belgian