Course Details
Nosework is easily the hottest new sport around, and it's easy to see why! It's fun for humans, dogs love to participate, and it's good for building confidence and focus in dogs that have issues like shyness, reactivity, aggression, or a simple lack of confidence. Any dog can participate; from puppies to very old or retired dogs. In a matter of weeks, you'll see your dog confidently ignoring distractions and focusing on the target scent; and by the end of the course, many of the dogs will be ready to compete for their ORT.
This course is unique in that your dog will NOT learn to search for food; instead, we start with your target odor on DAY ONE! We use the proven training method that produces the nation's top drug and bomb detection dogs! Our backchaining method is effective on almost all dogs, from insecure and unfocused dogs to highly driven and intense workers. The proof is in the pudding; dogs going through only one or two levels of our courses are earning their ORT and NW titles in record time! Even if your dog has failed using other methods, we can help you succeed!
In this class, you will learn about the basic concepts in searching for odor, proper use of equipment, how to handle odor, how to make and place hides, and how to teach your dog the importance of odor obedience. You will also learn how to make the search for scent extremely important to your dog.
Teaching Approach
This class offers extensive written lectures, no verbal lectures, and videos of varying length. Any video lectures that include verbal information/instructions are accompanied with written steps. Lectures are designed to be watched and follow the ideas presented in the lecture. Lecture videos may run from 1 to 4 minutes long, with the average between 1-2 minutes. The lectures are designed to help a student understand the purpose of the exercise and how it might vary by dog. Pre-lectures are available before the class starts so that teams can get a jump start on conditioning odor for optimal skill progression. Since most lectures are sequential, they will be rolled out in 2 batches - the night before each week and a few days into each week. A 1 minute unlimited homework video option is available, along with the standard 6 minutes option per week. This class will work best for students who learn by reading text lectures, watching videos and who like having structured lesson plans.
This class will have a Teacher's Assistant (TA) available in the Facebook study group to help the bronze and silver students! Directions for joining that Facebook group will be in the classroom after you register.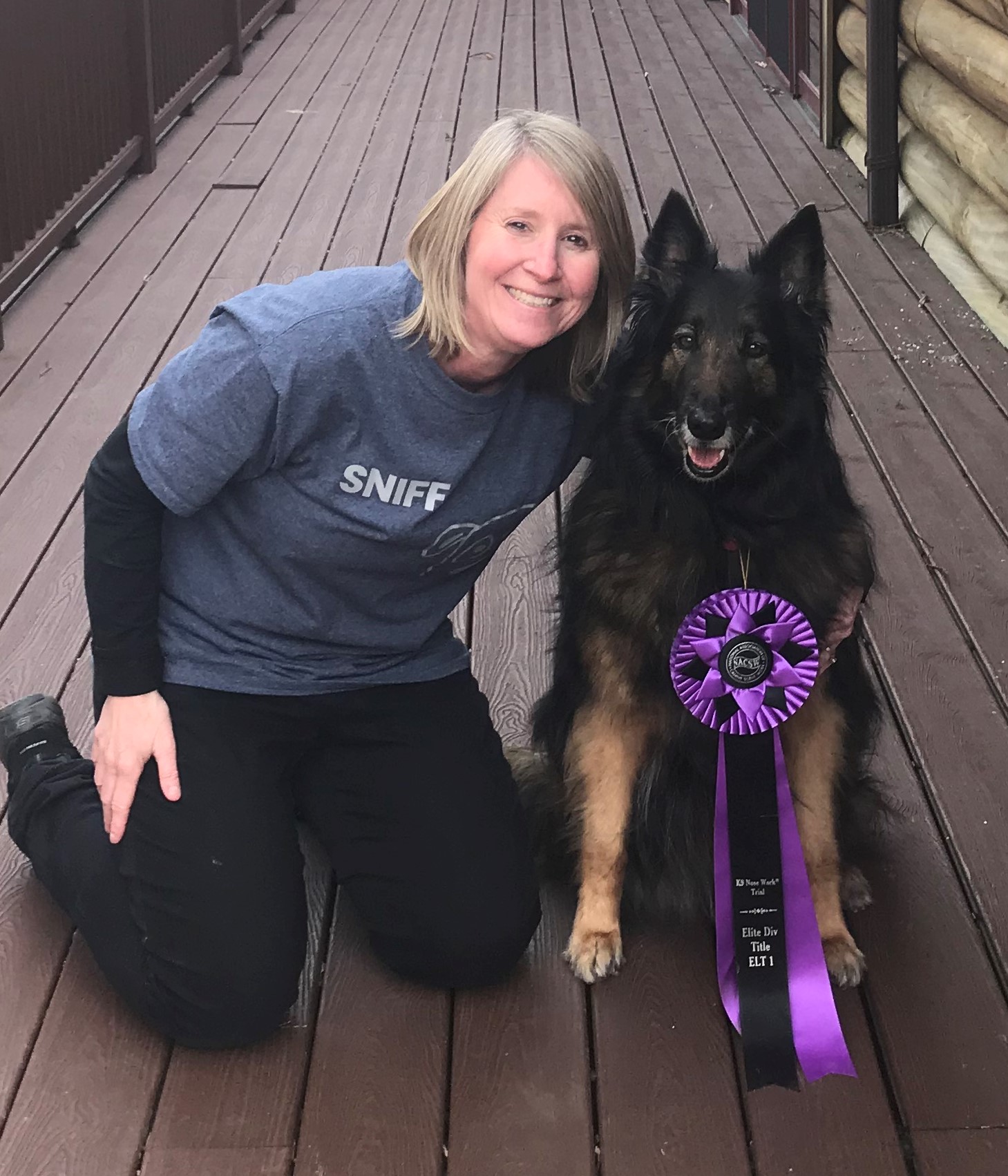 Instructor:
Julie Symons
Julie Symons (she/her) has been involved in dog sports for over 25 years. Starting with her mix, Dreyfus, in flyball, she went on to train and compete in conformation, agility, obedience, herding and tracking with her first Belgian tervuren, Rival. Rival was the first CH OTCH MACH Belgian...(Click here for full bio and to view Julie's upcoming courses)