Course Details
Lack of motivation in heeling is one of the prime reasons that people give up on the sports of obedience and rally. Rather than seeing heeling as a dynamic, intense interaction between partners, heeling is often seen as a drudgery that must be endured as part of general training.
Nothing could be further from the truth! Done well, heeling is an intense, exciting dance between engaged partners requiring absolute concentration and energy. When heeling is practiced as a series of specific behaviors – left turns, right turns, change of pace, etc. - the dance is lost. This class will teach you how to practice heeling as a game – with the end result that your performance will be sharper, more interesting, and with much improved focus and endurance.
This course will help participants learn to create excitement and interest in heel work with their dogs, rather than focusing on the actual skill of heeling. By increasing their attractiveness as a heeling partner, external reward schedules can be decreased at the same time that natural attention is being developed.
Denise will introduce one concept at a time, and then will provide games to help you apply that concept. This class will cover the concepts of opposition reflex, increasing dog involvement through movement, appropriate reward placement, developing rhythm, making the expected unexpected, and more!
To utilize this class, a dog needs a few steps of good quality heeling but not much more than that!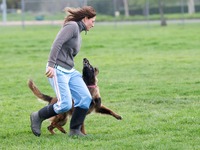 Instructor:
Denise Fenzi
Denise Fenzi has competed in a wide range of dog sports – titling dogs in obedience (AKC and UKC), tracking (AKC and schutzhund), schutzhund (USA), mondioring (MRSA), herding (AKC), conformation (AKC), and agility (AKC). She is best known for her flashy and precise