Course Details
There are many musculoskeletal injuries that can occur to performance dogs. Some are subtle and come on gradually. We are not really sure if there is something wrong. Some are acute and come on suddenly. It is obvious there is something wrong. Some seem to come and go, no matter what we do. Some injuries are easily diagnosed and treated, and the dog is back in competition within weeks. Some are difficult to diagnose and treat, and it could take months to years to get the dog back to competition.
Promotional Video:
This class will teach you about the common, and not so common, injuries that can happen to your active dog. We will discuss what is normal, what is abnormal, how to get an accurate diagnosis, what are considered good treatments, how to know when your dog is ready for rehab, and how to get your dog back to competition. We will not cover developmental diseases (hip dysplasia, elbow dysplasia, OCD), other than to mention that they exist and can cause a problem. We will not cover conditioning and rehab in detail but will touch on them as they relate to treatment and prevention of injuries.
The goal of this class is to make you an educated dog owner, which will allow you to ask questions and make informed decisions about your dog if you are ever faced with an injury. The material will be presented in a way that makes it easy to understand, even if you are not a science major. This class will be open to gold and bronze students only (no silvers). Gold students will be given homework to help them understand and use the lessons. Photos and videos will be requested to help Sue evaluate their dogs. If you are currently dealing with an injury to your dog, a gold spot will give you six weeks of in-depth consultation with a board certified surgeon and experienced sports medicine veterinarian to help you work through your dog's problem. If your dog is sound now, a gold spot will allow you to ask as many questions as you want about your dog(s). In this class, we can discuss as many of your dogs as you like!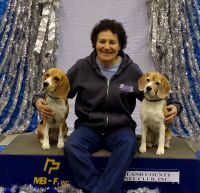 Instructor:
Sue Yanoff, DVM
Sue graduated from Cornell University College of Veterinary Medicine in Ithaca, NY, in 1980. After three years in private practice, she joined the U.S. Army Veterinary Corps. While on active duty, she completed a 3 year residency in small animal surgery at Texas A&M University