Course Details
Fancy, flashy, free, prancing, head up heeling! Want it? You've come to the right class.
Got forging, vocalizing, crabbing instead? You've come to the right class too! (make sure you grab that first class as well, since you need to make value for the CORRECT position, not the 1 foot ahead of you position!)
This class is solely about the moving part of heeling and is the 2nd in a series of 3, taught back to back once a year. We'll use mainly shaping, some body prompting, lots of energy and no luring to create this motivated attitude from your dog. We start with walking backwards which allows you to see your dog and teach each individual component of heeling like head position, gait, pace separate from the actual position.Then we cover how to move into straight heeling, tips on getting pushy heeling (offered behavior, it's the key!) and different ways of reinforcing to get optimal position and motivation out of your dog. This course concentrates on covering the first 5-15 steps of straight heeling, getting perfect heeling, position and motivation in those beginning steps. It does not cover pivots, stationary heel position or going from stationary to moving heel.
Check the pre requisites page for handler skills and dog skills that are strongly recommended coming into this course. I totally recommend grabbing the 1st course when you sign up for this one, so that you know what to look at when I reference a foundation skill. Students that will do best in this class already have a strong shaping history/language with their dog and feel comfortable with that method. Dogs that will do best in class are over 6 months old to allow for some mature movement, and are highly motivated by food.
One note about movement. Motivated prancing heeling is HARD. Most dogs don't have the balance, the strength and the flexibility to offer the behavior that we want to see. Case in point is my perfect puppy Talic, who is about to become 2 years old in June and is just now gaining the strength to be able to trot and hold his head up at the same time. This has finally come about because of all the hard work on the conditioning exercises that we've been doing for 2 years. If you too want beautiful heeling, think strongly about supporting your dog's ability to perform those actions required by taking conditioning courses!
I do realize that not everyone can run backwards (hard on the balance!) and that this course requires that for the handlers. I am totally willing to work WITH students (only at gold level) to adjust lectures and add modifications within everyone's challenges. "With" means we work together, not that I design a new class for one student! :)
Teaching Approach
This class consists of individual lectures for each subject/concept. Lectures are mainly bullet points with short videos showing examples of each point. No voice over or explanation is in the videos themselves (maybe a subtext or two). I release a lecture once a day, usually 3-5 times a week. Class subject is obtainable for most dog/handler teams.
This class will have a Teacher's Assistant (TA) available in the Facebook study group to help the bronze and silver students! Directions for joining that Facebook group will be in the classroom after you register.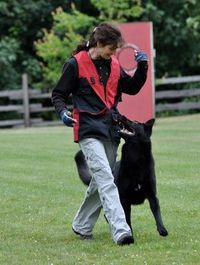 Instructor:
Shade Whitesel
Shade Whitesel (she/her) has been training and competing in dog sports since she was a kid. Always interested in how dogs learn, she has successfully competed in IPO/schutzhund, AKC obedience and French Ring. Her retired dog, Reiki vom Aegis, IPO 3, FH 1, French Ring 1, CDX, was 5th at the...(Click here for full bio and to view Shade's upcoming courses)