Course Details
This class is the 3rd in a series of 3. We've taught the foundations, both moving and stationary, and now is the time to put them all together to create the full picture! We'll be teaching turns, figure 8s, halts with many more skills. In order to be a gold student in this class, you must have the "picture" of moving heeling that you are satisfied with, or instructor approval.
The first 2 heeling classes are available for purchase as pre reqs for bronze students!
Check out the syllabus for the actual skills and the pre req section for skills and classes you and your dog should have coming into class.
No Ta decided on yet, but I'll keep you guys informed!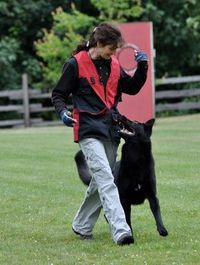 Instructor:
Shade Whitesel
Shade Whitesel has been training and competing in dog sports since she was a kid. Always interested in how dogs learn, she has successfully competed in IPO/schutzhund, AKC obedience and French Ring. Her retired dog, Reiki vom Aegis, IPO 3, FH 1, French Ring 1, CDX, was 5th at the