Course Details
Play your way to success
This course will focus on the people side of play with consideration of some science and some "art" elements.
Your dog as play partner will certainly come up and be relevant but the course is mostly for and about the human side of play. I anticipate that there will be more video on my side of the screen and you may choose to communicate through video as well.
This class will have a TA and a FB study group for bronze students.
We'll look at when and why is play hard sometimes. What changes about our ability to play as we mature?
How does gratitude fit into a play paradigm and where is the fun in our work with our dog?
What play techniques might help you move forward and what help do you need RIGHT NOW to play "better"?.
As always in my courses, there is lots of flexibility in making the course work for you and lots of different approaches to the various issues and concerns you might have about relaxing, playing and simply finding joy in the training and completing side of this life you are invested in!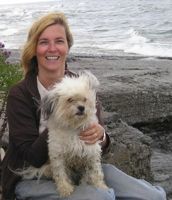 Instructor:
Andrea Harrison
Andrea Harrison (she/her) is passionate about all species, including dogs and humans! Having lived with dogs her whole life, Andrea was an early convert to positive training for people and dogs. She has taken this message to the media many times...(Click here for full bio and to view Andrea's upcoming courses)