Course Details
Want to expand your life skills for dog training and competing? Wondering how to make mindfulness and dog training work together? Curious about how to plan to include dreams and aspirations? Not sure how to increase your resilience and support those around you (animal or human) who need help recovering from tough events? Want to know about Growth Mindset, Flow and how you can achieve them? Looking to expand your creativity and sense of joy in life? Look no further - this course was designed for you!
We will be exploring a wide variety of topics and specific tools looking at becoming our best selves. Golds will choose which type(s) of work they'd most like to focus on. Expect supportive, safe and thought-provoking nudges and support from Andrea. It's the way she works!
One innovation for this class is a 42-day challenge that will provoke all levels of students to USE tools, experiment with things beyond their comfort zone and continue to move towards growth, change and self-awareness. Mindfulness is seen as a buzz word - that's not the intention of its use here. Deliberate, careful, conscious choices inform and support our ability to stay focused on the present and the things that matter most to us. Work together with Andrea to determine which tools you want to use to help you be your best self each and every day.
Teaching Approach
The class material consists of short lectures and specifically related exercises to help students apply the tools and understand the concepts covered. Material is provided in mainly written form. Students will work through materials at their own pace and get individualized feedback on their progress. New material will be released on an average of twice a week, depending on the general progress of the class. Each gold student will be able to personalize the course to get the help they need with their own concerns and challenges.
This class will have a Teacher's Assistant (TA) available in the Facebook study group to help the bronze and silver students! Directions for joining that Facebook group will be in the classroom after you register.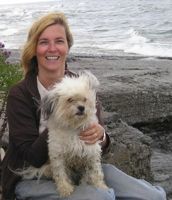 Instructor:
Andrea Harrison
Andrea Harrison (she/her) is passionate about all species, including dogs and humans! Having lived with dogs her whole life, Andrea was an early convert to positive training for people and dogs. She has taken this message to the media many times...(Click here for full bio and to view Andrea's upcoming courses)