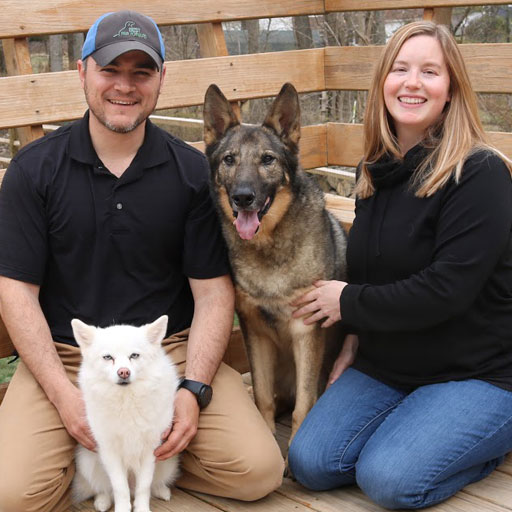 Husband and wife team Michael and Jamie Badial own and operate Best Paw Forward in Chalfont, Penn.
Originally from California, Michael learned a lot about dog behavior while working as a meter reader, which he applied to his work managing a 200+ dog kennel in Pennsylvania. While working there, Michael founded and operated a rescue focused on the training and safe rehoming of dogs with aggression, as well as started his career training dog owners.
With years of experience fostering German shepherds, and with a particular interest in adolescent dogs who showed fearful and reactive behavior, Jamie joined Michael's rescue after a mutual friend suggested her for fostering a young fearful GSD that Michael and Jamie now call their own.
In 2012, Michael and Jamie created Best Paw Forward to combine their individual efforts of bringing quality behavior training to pet dog owners in their area.
In addition to being a CPDT-KA, and when he isn't training people and their dogs, Michael is a sergeant in the Pennsylvania Army National Guard. Jamie is also a CPDT-KA and holds a bachelor's of science in accounting along with an MBA in management — knowledge that has helped develop systems and processes to quickly grow their dog training business.
Michael and Jamie run a facebook group called Marketing and Business for R+ Dog Pros that focuses on teaching other dog trainers how to price, package and sell their services to turn their love of dog training into a full-time sustainable career.