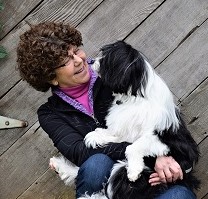 Julie Flanery (she/her), CPDT-KA has been working professionally with dogs and their handlers since 1993. She focuses on the needs of the dog and helping people form a strong relationship, through clear communication, and positive reinforcement.
She has placed Obedience, Freestyle, Rally, Rally-FrEe, Agility, Trick Dog and Parkour titles on her dogs and has earned a Championship in Heelwork-to-Music and a Grand Championship in Freestyle and Elite Grand Championship MCL in Rally-FrEe. She has achieved both High Technical Merit and High Artistic Merit in both Freestyle and Heelwork to Music several times over, including three prestigious Attila Challenge awards, as well as several "Top H.A.T." awards for High Scoring Heelwork, Attention and Teamwork. In 2001 she was named "Trainer of the Year" by the World Canine Freestyle Organization and has been a competition freestyle judge since 2003.
In 2012, Julie developed the sport of Rally-FrEe to help freestylers increase the quality and precision of their performances. It has since become a stand-alone sport enjoyed by dog sport enthusiasts all over the world. Julie has been a workshop and seminar presenter both nationally and internationally. She currently trains and competes with her Tibetan terrier in both Musical Freestyle and Rally-FrEe.
Pronouns: Julie goes by she/her.
Are you ready to add some paw-zazz to your trick training? Tired of the same old tricks of spins and weaves? Let's kick it up a notch! We'll take the basics and transform them...
December 1, 2023
Rally-FrEe is a unique sport with the structure of a Rally course and the creativity of Musical Freestyle. To learn more about Rally-FrEe, please visit www.rallyfree.com Each...
February 1, 2024
Both dog and handler's shaping skills can deteriorate when not used regularly. In training, many of us focus on specific sports. Each sport has its own set of skills t...
February 1, 2024
Have you ever watched a freestyle performance that mesmerized you? Not because the dog was performing a lot of difficult or fancy tricks or because the handler had a g...
April 1, 2024
Training Videos on Demand
Behavior is happening all the time. The key to training behavior is knowing how to create and recognize desirable behavior and then reinforce it so the dog wants to continue t...
How you set up your classroom can have a huge impact on your ability to teach and your students' ability to learn. It affects the dog's coming into the classroom in terms of a...
The format in which basic pet classes are offered has evolved over the last several years. From the traditional model of 6- or 8-week classes to less traditional models of rev...
Have a question about an upcoming course taught by Julie? Not sure if your dog is suitable for a specific class? We welcome you to contact instructors by email to make sure the course is suitable for you and your dog.
Julie Flanery is an outstanding training instructor who teaches Rally FrEe in very organized, detailed lectures with clear and concise videos and gives encouraging and precise feedback to the participants. Can't wait to take her next class. I'm moving up to Gold! Ellen S.
---
It was wonderful to have the person who developed this sport be the instructor. It is obvious from her approach and feedback that she is a teacher, not only someone who is active in the sport.
---
Julie was really, really wonderful. Many of the students struggled (Freestyle is HARD) and she very patiently suggested improvements and cheered when things improved. She is a really fabulous instructor and a wonderful addition to FDSA.
---
I can't say enough good things about the course I took this session, on Rally Free Intermediate skills (RA 510). The instructor, Julie Flannery, is simply excellent. Her explanations are clear and easy to follow, her videos illustrate very well how to go about the training, and her suggestions to the gold students were also helpful to me as a bronze level auditor. Her use of various training aids, such as training gates, made it much easier for my dogs to learn the exercises. They progressed surprisingly rapidly, including on behaviors I had struggled with in the past. I look forward to Julie's next offering. Kathryn K.
---
Julie is a really good instructor. She analyzes skill development and communicates it well. I felt she individualized my instruction and also did a good job of using others in the class to show things that pertained to my development. The videos were very helpful in adding the visual piece to information.
---
Julie Flanery is an AWESOME instructor and trainer. She gives excellent, thorough explanations of behaviors and transitional moves and supports those lectures with videos which make learning easy even with difficult concepts. She's very encouraging and is very good at giving constructive criticism to assist the handler in teaching their dog. I can hardly wait for her next class. Ellen C.
---
Julie Flanery's class on Transitions and Flow - Creating Effective Sequences for Musical Freestyle Routines was excellent! She gives lectures supplemented by her videos which are clear, interesting and easy to follow. The feedback she gives to Gold members is very, very helpful. She clearly pays attention to every detail in the videos and questions submitted to her and she responds quickly and with thoughtful comments and suggestions for improvement while always being encouraging. She is an AWESOME instructor as well as an excellent trainer. Ellen S.
---
Julie is a rare and talented trainer who can help people too--such a delight to have a creative and supportive teacher help me work on my skills! Cynthia M.
---
Julie Flanery presents a wealth of material both in the lectures and also in the class forums. If you take a class with Julie, be sure to take part in reading the comments in the forums even if you are not a Gold member. You will find yourself laughing and learning along with others--Julie's classes are GREAT!